Dylan Kolhoff is a sophomore Murray Scholar majoring in International Relation. While he hopes to travel the globe someday, Dylan is especially interested in Latin America and China. He first traveled to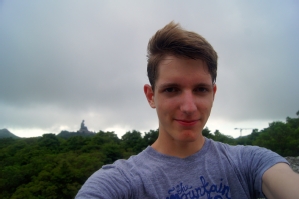 Latin America when he was 17 when he went to Peru to volunteer as a teacher for disadvantaged children. He adventured into China for two months last summer, which he spent couchsurfing across China, conducting research, and volunteering as a teacher for migrant children in Beijing. He hopes to continue exploring these regions by studying abroad in China and Argentina next year.

The Future of Democracy in China
Summary: I began my research last summer in a trip that took me throughout China. As I met people in each new place, I would ask them for their opinions on democracy, on the Chinese government, and on the Arab Spring. My focus was initially on the possibility of the Arab Spring spreading to China, but as my research progressed and I began to write my article, I began to focus on the future of democracy in general and how it was affected by events such as the Wukan Incident, the high-speed rail crash, and other domestic politics.
Read Dylan's entire article here.