Sharp Seminar collarboration with the Pulitzer Center
Sharp Seminar Collaboration with the Pulitzer Center
The Sharp Seminar, established with the generous gift from Anne and Barry Sharp, is a joint initiative between the Pulitzer Center and the College of William & Mary. Barry and Anne Sharp are the parents of Katherine "Katie" Sharp '14.  Mr. Sharp is senior vice president and CFO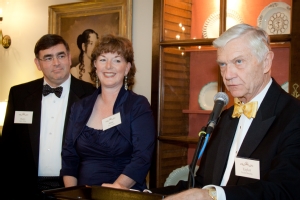 of Imagine Schools, Inc., an Arlington-based not-for-profit company and largest operator of K-12 charter and private schools in the US.  Prior to joining Imagine, he served as CFO for AES Corporation from 1986 through 2005.  From 1981 to 1986, he held various positions with Arthur Andersen & Co.  Mrs. Sharp is a former secondary school English teacher.  The Sharps have been active volunteers with the College over the years.  Mr. Sharp serves on the Mason School Advisory Board and the Business School Foundation board.  Mrs. Sharp serves on the W&M Foundation board.  The Sharps  generosity established the Sharp Public Writing Program.  The Sharps live in Fairfax Station, VA.
The program pairs Pulitzer Center-sponsored journalists with William & Mary students invited by faculty to apply to the program. The goal of the initiative is to provide students with the opportunity to learn how to communicate to a broad audience about topics that they have studied and care deeply about. William & Mary provides students with many opportunities to write as scholars for other scholars; this course is designed to help students improve their ability to write as citizens for other citizens.
Students interested in applying for the 2018-2019 class should complete the online application by Noon on Wednesday, February 28, 2018. 
For questions about the Sharp Seminar or application process, email [[cecraddock, Chelsie Craddock]] 
2017-2018 Class
Heather Baier
Lexi Godfrey
Thea Gu
Erika Jaimes
Amelia Lucas
Samantha Nichols
Gabbie Pachon
Noah Petersen
Sarah Shevenock
Talia Wiener
Jack Zhang
Previous Years

2014-15
Hannah Berk

 

- The Right to Know Your Rights: Language Access in the Justice System
Akshay Deverakonda

 

- The Fall of Icarus: Ivanpah's Solar Controvery
Alexis Foxworth

 

- What's in a Vote?
Rachel Merriman-Goldring

 

- The War Over Wilderness: Drakes Bay Oyster Company and the Preservation Movement
Akela Lacy

 

- Italy: The Future of Migrants and Refugees
William Plews-Ogan

 

- New Justice Center: A Beacon of Hope for Oglala Sioux Amid Complex Challenges
Katharine Sucher

 

- Private Tiger Ownership in U.S.
Becca Thorpe

 

- The Future of Confucius Institutes in the U.S.
Ellen Wexler

 

- When Employers Demand Skills Professors Cannot Define
2013-14
Hannah Boes

 

- Charm City Gets Real
Daniel Casey

 

- The Volkswagens and Cadillacs: Agricultural Best Management Practices and the Restoration of the Chesapeake Bay
Brian Comiskey

 

- Unlocking the SAFE Act: US Immigration Detention Policy and Reform in 2014
Claire Gillespie

 

- Let Them Take Tests: The Common Core State Standards as Implemented in Illinois Elementary Schools
Dana Hayes

 

- Hannibal's Hungary Tumblr Fandom
Olivia Jebb

 

- The Residency Bottleneck: A Speed Bump in the Healthcare Road
Lizzy Pelletier

 

- Testing in Harm's Way
Meg Schwenzfeier

 

- Consumer Data Privacy in Politics
2012-13
Aly Brahe

 

- The Crackdown
Sarah Caspari

 

- Global Perception of Che Guevara
Andrea Filzen

 

- Clash on the Border of the Tohomo O'odham Nation
Katie Kennedy

 

- Use It or Lose It: Social Media in the 2012 Election
Max Lander

 

- School Garden Programs and Food Security
Dana McKelvey

 

- Bosnia Prepares for First Post-War Census
Deborah Van Roy

 

- El Nuevo South: A Land of Isolation
Allyson Zacharoff

 

- Spain Rights the Wrong of Jewish Exile?
2011-12
Morgan Barker - Seeing Disability
Mitch Caudill - Reclassifying Chimpanzees
Kate Furgurson - Labor Policy in the 2012 Farm Bill
Sharon Hartzell - Peeking into Appalachia: Is the "Outsider Activist" a Myth?
Dylan Kolhoff - The Future of Democracy in China
Ani-Rae Lovell - Full Court Press: Pursuing Rights Protection in State Court
Gabrielle Names - Capturing the 'I'iwi
Jasmine Rodenburg - The Future of Xcel Energy in Colorado
Lisa Sthreshley - Does Congo Really Need Us?
Rachel Wallace - Exploring Mattey's Garden
News and Media 
The Pulitzer Center on Crisis Reporting supports the work of journalists working on "under-reported" international topics. You can read more about the Pulitzer Center by visiting their site.