Sharp Seminar collarboration with the Pulitzer Center
Sharp Seminar Collaboration with the Pulitzer Center
The Sharp Seminar, established with the generous gift from Anne and Barry Sharp, is a joint initiative between the Pulitzer Center and the College of William & Mary. Barry and Anne Sharp are the parents of Katherine "Katie" Sharp '14.  Mr. Sharp is senior vice president and CFO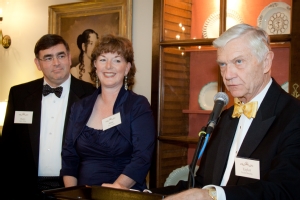 of Imagine Schools, Inc., an Arlington-based not-for-profit company and largest operator of K-12 charter and private schools in the US.  Prior to joining Imagine, he served as CFO for AES Corporation from 1986 through 2005.  From 1981 to 1986, he held various positions with Arthur Andersen & Co.  Mrs. Sharp is a former secondary school English teacher.  The Sharps have been active volunteers with the College over the years.  Mr. Sharp serves on the Mason School Advisory Board and the Business School Foundation board.  Mrs. Sharp serves on the W&M Foundation board.  The Sharps  generosity established the Sharp Public Writing Program.  The Sharps live in Fairfax Station, VA.
The program pairs Pulitzer Center-sponsored journalists with William & Mary students invited by faculty to apply to the program. The goal of the initiative is to provide students with the opportunity to learn how to communicate to a broad audience about topics that they have studied and care deeply about. William & Mary provides students with many opportunities to write as scholars for other scholars; this course is designed to help students improve their ability to write as citizens for other citizens.
Students interested in applying for the 2019-2020 class should complete the online application by Noon on Thursday, February 28, 2019. 
For questions about the Sharp Seminar or application process, email [[cecraddock, Chelsie Craddock]] 
2017-2018 Class
Previous Years

News and Media 
The Pulitzer Center on Crisis Reporting supports the work of journalists working on "under-reported" international topics. You can read more about the Pulitzer Center by visiting their site.