Students Journey to Learn the Salmon Tale
You could say: Over nine days students visited three sites in south-central Alaska, captured 6 spawning sockeye salmon at each site, dissected and analyzed the specimens following a precise research methodology, and then returned the specimens' organic matter to decompose into the local ecosystem.
But the story unfolds more beautifully in an exquisite COLL 300 Study Away course designed by Professors Patty Zwollo (Biology) and Carey Bagdassarian (Interdisciplinary Studies): Salmon Tales: Biology, Complexity, and Story. The cost of student participation was funded in part by the Charles Center and the Arts & Sciences Annual Fund.
As prologue, students read background material and attended campus sessions on topics ranging from salmon immunology to the salmon's role in indigenous culture and story, laboratory skills (e.g., proper use of micro-pipettors), and wilderness safety (e.g., effective use of bear spray). In one-page narratives they described their hopes and expectations for the course.
July 31, as the salmon migrated upriver, returning to their birth home, the students gathered at base camp in Anchorage. Here, and "on the land" at remote river sites, they began to learn the Salmon Tale.
Each day started at 9 a.m. and ended with evening sessions and discussion.
"In my research I examine the immune system of migrating salmon, looking at antibody-producing 'Memory cells' stored in the anterior kidney, the immuno-suppressive effects of cortisol, and so forth. This involves specimen capture, dissection, sampling, and analysis, and the students learn all of these things," said Professor Zwollo.
"What's happening inside the salmon is part of a larger story," said Professor Bagdassarian. "How do salmon give and take from the surrounding food web and ecosystem? How have indigenous peoples woven the ways of the salmon into cultural meanings and their understanding of the world?"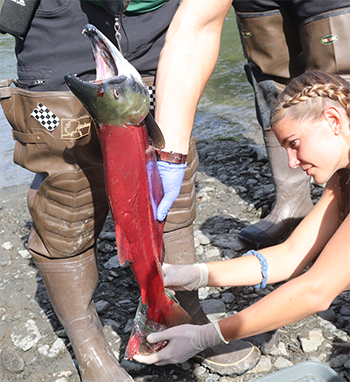 "Back and forth, moving between our disciplines and perspectives, the students learned at different levels they hadn't imagined before," said Zwollo.
"Being on the land makes teaching this kind of interconnected content possible," said Bagdassarian.
Jordan Martin '20 described the course as "looking at the landscape in so many different ways to better understand it, from learning about the nutrient cycles, to the importance of salmon in the local indigenous cultures, to the complex salmon immune system. These different scales and perspectives have all been explained to us through some sort of story."
The story of this course has no single ending, as students reflect on their experiences and continue to weave their own narratives. A parting thought by Zach Cooper '21 points in interesting directions: "I realize that balance is not some sedentary state, it is a continual, fluid interaction between contrasting elements. Everything is intertwined and interdependent, a complex system..."
Related story: Salmon Tales: Sex, Myth and Molecular Genetics of an Iconic Fish