Student Projects Showcase Range of Geospatial Tools
From oyster reef patterns to geointelligence and national security, students and faculty at William & Mary are applying the tools of GIS to map and communicate their research results.
"GIS" as an acronym refers to Geographic Information System. The term broadly encompasses the many ways in which spatial data can be gathered, stored, analyzed, and displayed using computer-aided systems.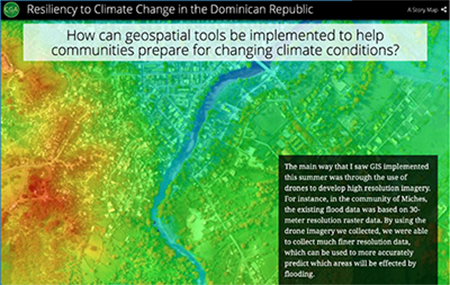 "There's been tremendous interest across William & Mary in learning and applying these tools," said Robert Rose, director of the W&M Center for Geospatial Analysis (CGA). "We are intentionally multi-disciplinary, supporting the full range of projects that can benefit from using maps to analyze and present research results."
This past March the CGA hosted a research symposium, where students shared example research projects and discussed career paths and opportunities with visiting GIS professionals. The day-long event was funded in part by the Arts & Sciences Annual Fund.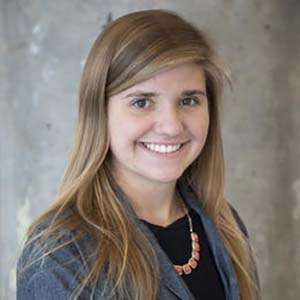 Rachel Layko '19 (Biology) presented her project as a story map, describing how geospatial tools can be used to help communities prepare for changing climate conditions. In summer 2018 she worked on the Resilient Islands Project. Her team flew five drone missions over the town of Miches in the Dominican Republic, then combined thousands of the resulting high-resolution images to create a detailed "orthomosaic" digital map.
"In total, I digitized over 4,800 structures," reported Layko.
"In the community of Miches, the existing flood data was based on 30-meter resolution raster data. By using the drone imagery we collected, we were able to collect much finer resolution data, which can be used to more accurately predict which areas will be affected by flooding."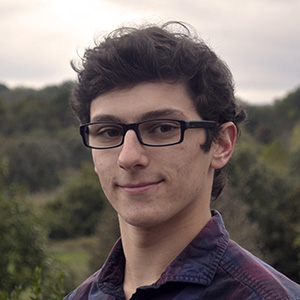 Alexander Nocks '19 (Government) presented "Regulating the Revolution: Mitigating Dangers of Public GEOINT Capabilities," a policy project he completed with the W&M Project on International Peace and Security.
Nocks explained how GEOINT, short for geospatial intelligence, comes from analyzing two types of inputs: geospatial information and aerial imagery. GEOINT tools allow remote actors to describe, assess, and model virtually any activity in a given spatial environment.
Public access to geospatial intelligence has resulted in tremendous advances and cost-savings in the areas of exploration and reconnaissance. Alongside those benefits are the known threat of bad actors using GEOINT to select targets and plan and execute terrorist attacks.
In his analysis, Nocks proposed that "instead of blanket, front-end restrictions on the imagery being sold, the United States should adopt specific denial and monitoring strategies to detect online reconnaissance chokepoints that currently control access to the most critical information."
Other student presentations included:
Briana Colon, M.Ed. '19 and M.P.P. '19: "GIS and Public Policy Applications"
Karinna Nunez, Ph.D. candidate in Marine Science: "Integrating GIS Technology with Hydrodynamic Models"
McKinley Saunders '19, Economics: "Need Based Donor Response in Nigeria"
Sofya Zaytseva, Ph.D. '19 in Applied Science: "Analysis of Oyster Reef Patterns in Remotely Sensed Data"
In fall 2019, the CGA rolls out a new post-graduate certificate program focused on geographic information systems, remote sensing, global positioning systems, and more. The one-year program provides up-to-date knowledge and skills, along with a deeper understanding of professional practices related to geospatial technologies.