Shanta Hinton honored for Excellence in Biology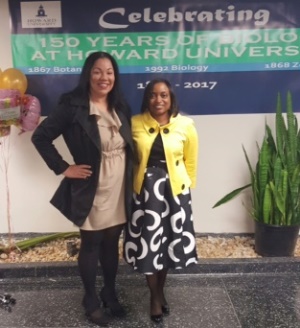 In 2017 Howard University, Washington, DC celebrates its 150th anniversary; 150 years in Excellence in Truth and Service. The university declared its 150th Anniversary theme as the The Time is Always Now -James Baldwin.  Various departments throughout the institution honor this theme by celebrating and awarding their outstanding alumni. Our very own Associate Professor, Dr. Shantá D. Hinton, was amongst the alumni celebrated.  During the March 6, 2017, Department's Biology's Sesquicentennial Celebrations, she was given a certificate of Excellence in Biology in recognition of her outstanding accomplishments in biological sciences. The Biology department, which was created in 1992, deemed her as their most promising scientists they produced.
Howard University has a long and prestigious reputation as the number one producer of African-American undergraduates who matriculate to earn Ph.D.s in the STEM, and number one producer of on-campus African-American Ph.D.s. Therefore, it is no surprise that Dr. Hinton who received mentoring from her research advisor, Dr. William R. Eckberg, and Dr. Winston A. Anderson (Howard Hughes Medical Institute Professor and 2011 recipient of the Presidential Award for Excellence in Science, Mathematics, and Engineering Mentoring) would be on a trajectory to continue to excel in science.