Students Tackle Synthetic Biology, Bring Home Gold Medal
The International Genetically Engineered Machine Foundation hosts an annual challenge to undergraduate teams worldwide: Tackle a project in synthetic biology, working from a kit of biological parts (provided). Over the summer use these parts, and whatever new parts you design, to build and test biological systems in living cells.
Eleven W&M students stepped up with Project Decode and presented their results at the competition's Giant Jamboree, held October 25-28 in Boston, Mass. – and were awarded a Gold Medal. Their participation was funded in part by the Arts & Sciences Annual Fund.

Students summarized their project in relatively simple terms: "Current synthetic genetic circuits have difficulty interacting with natural systems due to the manner in which natural systems encode information. To enable synthetic circuits to interact with natural systems, we need a decoder to interpret and convert dynamic signals. We created a mathematical and biological framework for designing synthetic circuits capable of decoding."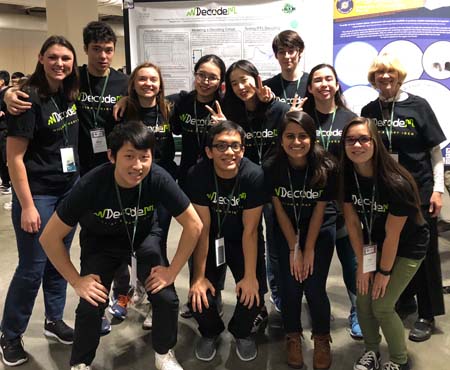 Behind that description lies a lot of hard work.
Professor Margaret Saha (Biology), who guided the team's project, described it as "extremely complex and beautifully creative work." One of the competition's judges lauded the W&M team for attacking really challenging and fundamental problems.
The bottom line? Eleven students received an intense, collaborative, team-focused research experience that produced interesting results, gave them a resume-boosting experience, and allowed them to present at and experience a truly international meeting. As with previous competitions, it's likely they'll participate in a post-competition, crowd-sourced publication.
For more information about Project Decode and the team:
Also noteworthy: Project Decode team members connected with students competing from the University of St Andrews, and laid the groundwork for a future collaboration. Since 2010 William & Mary and St Andrews have worked together to offer an international joint degree.