Class of 2014 Alumni Awardees: Ashley Fidler and Jessica Benson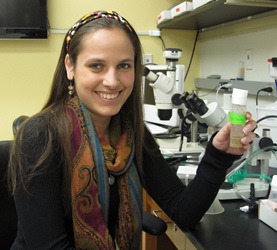 On Tuesday evening 22 April the College celebrates the accomplishments of graduating senior students who have excelled in their academic careers. At the event this year, the
Alumni Prizes in Biology
are presented to Ashley Fidler and to Jessica Benson, the crème de la crème of our undergraduate biology students.
Ashley Fidler is being recognized for her accomplishments in Cell and Molecular Biology. Nominated by her advisor Dr. Matthew Wawersik, Ashley (a biology/chemistry double major) has accumulated an impressive list of accolades, including a Ferguson Summer Research Fellowship, a Monroe Fellowship, and W&M's Class of 1940 Scholarship. Her senior thesis on regulation of germline stem cell establishment and maintenance by bone-morphogenic protein signaling is leading to a first-author manuscript for Ashley. Recently, she presented some of the results of her research at an International Drosphila conference in Chicago, and the research techniques she has developed will be part of an accepted manuscript/presentation in production for the Journal of Visualized Experiments (JoVE).
A doctoral program in physical chemistry at UC Berkeley lies in her future, but first Ashley has to tend to another research item: she is one of 40 students nationally awarded a scholarship by the Bill and Melinda Gates Foundation to complete a Masters of Philosophy degree at Cambridge University, UK. As Dr. Wawersik notes, "Ashley is a brilliant, highly motivated and thoughtful young scientist who is well on her way to becoming a scientific star." She is an outstanding recipient of the Alumni Prize in Molecular & Cellular Biology.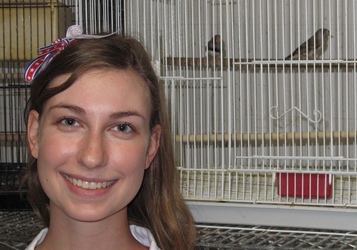 The department's Committee on Undergraduate Studies also has selected Jessica Benson to receive the Alumni Award in Ecology and Organismal Biology for 2014. Jess began as a first-year HHMI student in Dr. Swaddle's lab, where she began assembling background information from the primary literature to develop a research question. Over the last three years, she investigated whether a common industrial pollutant—mercury—affects fundamental behavioral traits such as aggression, boldness and activity level in her study organism, the zebra finch. Jess found that mercury can indeed change what are essentially the "personality" traits of an organism. This is a major breakthrough that will garner media attention when the research is published.
Last year Jess presented her initial findings at an international research conference—the Wilson Ornithological Society. According to Dr. Swaddle, "Her analysis and poster were so impressive that she won the best student presentation award—beating out all of the doctoral students who were also presenting at the meeting. This is quite an achievement for a junior undergraduate."
Jessica will be heading to Virginia Tech to attend the VA-MD Regional College of Veterinary Medicine—a move that joins her passion for horses with her love of biological research. Dr. Swaddle and Dr. Cristol both have been struck by Jessica's commitment to her studies, to her research, to her colleagues, and to the college equestrian team. As Dr. Cristol notes, "That she could do it all with a big smile and a helpful word for everyone else in the lab is a testament to the fact that she embodies what William & Mary is all about – smart and caring."
At the reception Tuesday evening at 7PM in the Alumni House, Ashley's award is presented by Dr. Wawersik and Jessica's award is presented by Dr. Swaddle. Congratulations to two of this year's top Biology students!