Muscarelle: Where Science Meets Art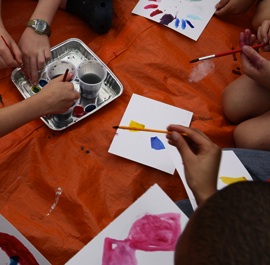 Science and art – two seemingly different disciplines – intersected recently at the Muscarelle Museum of Art, yielding an educational and interactive fieldtrip for some 800 local elementary school children.
Third, fourth and fifth grade students from Williamsburg-James City County, Newport News, York and Hampton County, participated in the second annual "Science Behind Art" event.  This year's earth science theme featured activities on clay and soil, clouds and meteorology, patterns and nature and the physics of color, each tied back to elements and principles of design.
To read the full article and view a photo gallery from this year's event click here.