Are you looking for a new wardrobe? An eco-friendly and aesthetically pleasing terrarium? Or a new way to spice up your dorm room? All of these questions can be answered at DesignSponge.com by resident blogger Grace Bonney '03.
When Grace started at William and Mary, she had very little idea of what she wanted to do. She arrived for the second half of her sophomore year after studying journalism at New York University. Her passion however, was in art.
"When I got to William and Mary, I initially thought I would stick with the journalism and major in English," says Bonney. "I ended up being an art major with a focus on printmaking. Matoaka [Art Studios] became my second home."
Her WCWM radio show - focused on jam bands - also reflected a deep love for music. Her love of free-form music was the only thing that rivaled her love of design, meaning she spent many nights holed up in the basement of Swem when she wasn't working in the art studio.
"I really thought William and Mary was the perfect place for me to be. I took a class in printmaking and loved it," says Bonney. "My professor Elizabeth Peake understood me right away; she knew I would never be a professional artist but recognized my love of design and sent me back with stacks of books on textile design and woodworking."
Armed with her books and renewed confidence, Grace overhauled her apartment in Ludwell, building all the furniture, creating everything from light installations and cabinets to curtains. She transformed her apartment with DIY projects from the books she read, magazines and TLC shows like Trading Spaces.
"I built a fun light fixture inspired by Genevieve Gorder on Trading Spaces. It was a three-sided box with push lights behind it and a series of drilled holes on the front. I painted it dark navy blue and then when it was on the wall you could push your fingers through the holes and turn the lights on. It looked just like the sky with stars!"
"Reading all those books is what got me into furniture design," says Bonney. "Elizabeth Peake gave me the courage to enjoy art without the pressure of thinking I needed to be an artist. That confidence was what really helped me to make DesignSponge work as a full time job."
Grace left William and Mary the day after graduation to start work at a record label in New York. Although moving to the big city was a huge transition, Grace found a fellow William and Mary grad on Craigslist and they became roommates.
After a year, Grace hated her job and decided to go back to her roots in art and journalism. She took a design job at a very small PR company.
"That's when I got my first taste of working with magazine editors," says Bonney. "I had never been exposed to this kind of writing and I fell in love. Writing shorter bits of things ... it's more natural, like a person talks."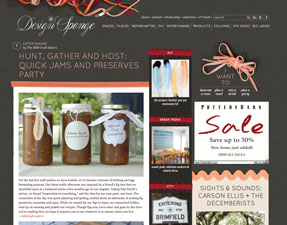 Meanwhile, the design scene in Brooklyn seemed set to explode. Grace took her camera everywhere, taking pictures at design shows and exhibitions.
"No one at that time was writing about what was happening, so in August of 2004 I started a blog to write about Brooklyn and the people I was meeting," says Bonney. "It just happened that the New York Times did a story in January 2005 about design blogs. There were literally about five design blogs when I started and mine was the only younger, girlier site."
The feature in the Times took Bonney's blog from about 1,000 to 10,000 hits a day. After that, things really started to take off.
This article first appeared in the William & Mary Alumni Magazine. Full article available at the W&M Alumni Association.