Integrated Science Center 3
Applied Science Department
540 Landrum Drive
Williamsburg, VA 23185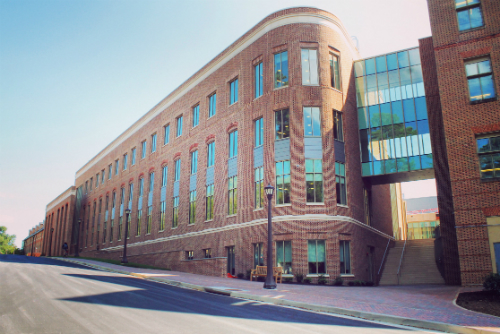 Applied Science is on the ground floor of the Integrated Science Center and building #114 on the Campus Map. 
Driving Directions
Driving directions via Google Maps
From College Corner
From College Corner (the V-shaped intersection of Jamestown and Richmond Roads) and turn right on the first street, Landrum Drive.  The Integrated Science Center is the second building on the left.
If you're walking, Jamestown Road will take you straight to Landrum Drive. Turn right and the building will be the second on the left.
Parking
Visitors are encouraged to obtain a Visitor Parking Pass, available for a fee from Parking Services at 201 Ukrop Way. With a Visitor Parking Pass, you can park in any faculty/staff or student space unless the area is reserved at all times. 
Campus parking is regulated and closely enforced from Monday at 7:30am through Friday at 5:00pm. In many areas adjacent to the College, street parking is subject to certain restrictions. Read the signs carefully to avoid being ticketed. Nearby free and paid parking is available in the Merchants Square area of Colonial Williamsburg.
Flight Travel
Three airports are convenient to Williamsburg: Richmond International Airport (RIC), Norfolk International Airport (ORF), and Newport News/Williamsburg Airport (PHF). Richmond and Norfolk are each about an hour from the College by car; Newport News is about 40 minutes. Keep in mind that there is a tunnel between Norfolk and Williamsburg, which can sometimes cause traffic delays. All airports offer shuttle service to Williamsburg and the College.
Train Travel
Amtrak offers train service to Williamsburg and can be a convenient way to travel from the northeast corridor. The station is about a fifteen-minute walk from College Corner.