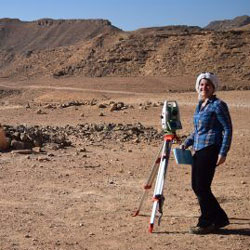 Abigail (Abby) Buffington
Visiting Assistant Professor
Areas of Specialization: Pastoral landscapes in ancient Arabia (Yemen, Oman, and Jordan) through phytoliths, macrobotanical remains, and charcoals

Background
Dr. Abigail (Abby) Buffington, a Visiting Assistant Professor for 2021-2022, is an environmental archaeologist and paleoethnobotanist. She specializes in studying pastoral landscapes in ancient Arabia (Yemen, Oman, and Jordan) through multiple proxies of the paleoecology (phytoliths, macrobotanical remains, and charcoals). She additionally uses geospatial analysis, agent-based modeling, integrated ethnographic data, and statistical analyses in her research on the environmental effects of animal herding. In her doctoral dissertation research, she applied a cultural niche construction approach to the Neolithic (9000 - 4500 BP) cattle herding societies in Hadramawt region of southern Yemen, as a part of the Roots of Agriculture in Southern Arabia (RASA) project. She found evidence (in the form of phytolith assemblages recovered from ancient stable soil horizons) for the development of a 'pastoral niche', under the conditions of managing and having herds. 
Her current field research is on the Ancient Socio-Ecological Systems in Oman (ASOM) project, wherein the team is exploring the relationship between anthropogenic landscape formation, global climate changes, and pastoral transhumance in Oman's Dhufar Province. One of the principal foci of the project and the major concern of the agent-based modeling is the study of conditions associated with the emergence of territoriality and social boundary defense among pastoralists. This region is unique in the Peninsula for the monsoon fog forest, present following the summer rains on the mountain escarpment, and the grassland savannah plateau at the summit. This C4 grassland supports the only transhumant cattle pastoral system in modern Arabia. Abby is deeply involved in the project's research on settlement history & chronology as well as the local vegetation dynamics, accessible through phases of paleosols, preserved beneath termite mounds. She plans to return to the field to collect geoarchaeological data and use this material to test the relationship between animal corral locations and later crop agricultural palimpsests. 
She began her career as an archaeologist working in central Jordan on multi-phase urban and rural settlements dating to later prehistory (1200 BCE - 600 CE), and she maintains ties to these research projects (The Wadi ath-Thamad project, The Tall Madaba project, and the Khirbat al-Muhayyat project). In her role as paleoethnobotanist on these research teams, she explores the position of specialist pastoralists in the politicized landscape and intensified production under the shifting polities and empires. Through this research, she is interested broadly in the ways people contest foreign and global power structures through the maintenance of socially constituted practice (mobility and food production). 
At William & Mary, Abby will be working closely with Professor Jennifer Kahn, an archaeologist in the Anthropology department, on building useweb network models of socio-ecological systems in Polynesia. This research is part of a larger scholarly collective studying complex systems in a number of archaeological and historic case studies across the world. Additionally, she will be teaching courses in her specialty across her associated departments in the Spring 2020 and Fall 2020 semesters.