Sutlive Prize and Lecture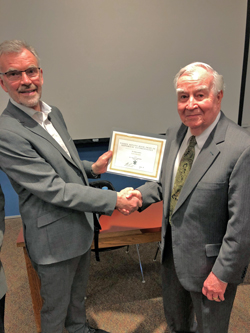 The Department of Anthropology at William & Mary is pleased to report that Gísli Pálsson, the winner of the inaugural Vinson Sutlive Book Prize in Historical Anthropology for his work,
The Man Who Stole Himself: The Slave Odyssey of Hans Jonathan
, presented his Sutlive Lecture on, "The biography of Hans Jonathan,Its birth and afterlife," on Tuesday, April 10th to a large audience in Washington Hall. Professor Pálsson spoke about the multiple narratives of Hans Jonathan, Danish court records, and Icelandic oral histories, and his own efforts to connect these narratives, and generate an anthropological account. He also described his own role in getting to know the descendants of Jonathan, and his ongoing efforts to find out more about Jonathan's parentage and contemporary kinship relationships. More about this amazing account is featured in a recent
New York Times essay
on Hans Jonathan and Gísli Pálsson:
Through his work Pálsson uncovered the story of Hans Jonathan, born a slave in the Danish Caribbean, who, despite his failed attempt to legally undo his bondage in Copenhagen, was able to make his way to a life of freedom in Iceland in the first quarter of the nineteenth century. The story of Hans Jonathan and his descendants brings readers familiar with the story of trans-Atlantic slavery into new ground, and simultaneously enlarges our sense of northern European histories of empire and race. In turn, Pálsson bridges his archival and genealogical detective work to a sustained meditation on contemporary debates regarding origins and the remembrance of the past, in Iceland and beyond. The result is a gripping micro-historical narrative that remains grounded in an anthropological commitment to the big picture. Combining painstaking documentary research with sophisticated reflection, The Man Who Stole Himself is a moving, timely, and inspiring exploration of slavery, freedom, kinship, and memory, and one that breaks new ground in anthropological writing.