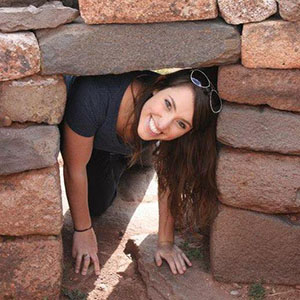 Haley Hoffman
Congratulations, Haley! Her degree was conferred in January 2021.
Year Entered: 2018
Degree Sought: M.A.
Sub-field: Archaeology
Research Interests: Historical Archaeology; Colonialism; Archaeological Ceramics; Preservation and Museum Studies
Regional Specialization: North America (Southeast)

Background
Haley graduated with a Bachelor of Arts in Anthropology from George Mason University in 2017. She worked for Fairfax County Archaeology as a field and lab technician as well as working in the cultural resource management field. Haley is originally from central Pennsylvania, where she has done research on French and Indian War sites and predictive modeling for Native American sites. She is currently interested in Dutch influence on colonial sites in Virginia, specifically looking at ceramic types and pipes.