Welcome to the World of #RMDHatWM (digital humanities)
You could say: Dozens of scholars participated in the "Race, Memory, and the Digital Humanities" conference, hosted on campus October 26-28, by the W&M Equality Lab.
But that wouldn't really capture some very interesting twists of space and time – and joy – that characterize new trends in the digital humanities.
Here's another approach: The W&M Equality Lab orchestrated an event that happened in real time October 26-28 and continues online across various digital forums. Participants presented their work and interacted in real space on campus and worldwide via live videostreams, and followed the discussion on Twitter, Instagram, and Facebook through real-time posts with #RMDHatWM.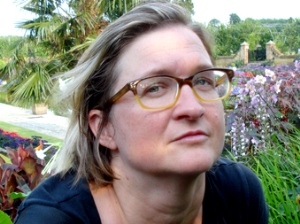 Professor Elizabeth Losh (English, American Studies) served as lead organizer, with the assistance of twelve W&M graduate students. "We had extraordinary campus support, including the needed technical support," Losh said. The conference was funded in part by the Arts & Sciences Annual Fund.
An array of sprawling cables and black boxes monitored continually by two technical staff helped to make the event possible – and the technology worked, even during an ambitious demonstration of her high-tech musical techniques by electronic musician and former Guggenheim Fellow Pamela Z.
Campus attendees followed comments and questions posted to social media, which became merged into the conversation on campus, which continued to stream online. A small technical glitch affected the audio when Roopika Risam (Salem State University) joined a Saturday presentation via videoconference. Not a problem. She simply followed up by posting her notes, with hypertext links, so that everyone had full access to her talk.
According to Losh, "We framed the conference intentionally in ways that complemented the W&M celebrations of 100 years of women and 50 years of African-American students."
Details about the conference and its presentations and conversations are available through these links:
Early in the digital revolution, humanities scholars recognized the potential for digitizing archival materials and "democratizing" access to them through online databases and forums. Then they started to delve into far-reaching questions like: What kinds of materials should be deemed worthy of archival attention? Who decides what to collect and conserve, using what kinds of criteria? What might an archive consist of if objects were curated through the "wisdom of the crowd"? And surely such an archive would include materials that are "born digital" along with those recovered from the past.
"The humanities offer a kind of intervention that lets us think about technology in new ways," Losh said. "We're a part of an expanding community of like-minded scholars and nonscholars who take our digital citizenship very seriously, and we want to use technology to support future creativity as well as the achievements of the past." And, judging by the joyful hugs of greeting and frequent affirmations of support, delighting in each other and their work.
Many of this group of emerging scholars found each other through a hashtag. You can follow along as their conversation continues at #transformdh