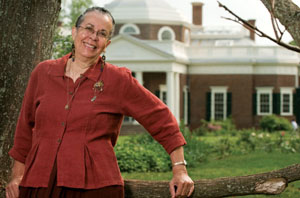 W hen Leni Ashmore Sorensen M.A. '97, Ph.D. '05 was a little girl in Southern California, she spent a lot of time in the kitchen, partially out of necessity and partially out of interest. As the daughter of a single mom who worked, Leni found herself cooking dinners most nights. She discovered the art of cooking and enjoyed making meals, as long as someone else was doing the dishes. Over the years, Leni has found a way to weave her interest in growing and preparing food into all areas of her life, whether as a performer, mother, historian or teacher.
Today, Sorensen works as the African American Research Historian, as well as the unofficial culinary historian, at Thomas Jefferson's Monticello in Charlottesville, Va. Her research at Monticello focuses on Mulberry Row, center of the industries that kept the plantation running — from the blacksmith shop to the nailery.
She also gives lectures at various institutions and organizations on Jefferson's kitchen and the African-American chefs who prepared the meals at Monticello, including Sally Hemings' brother James, whom Jefferson brought to Paris to be trained in French cooking. In honor of Black History Month in February this year, Sorensen gave a lecture on renowned chef Edna Lewis for a fundraising dinner, while celebrity chef Carla Hall from Bravo's Top Chef prepared the meal.
The long and winding path that led from her West Coast childhood to her place as a historian in Charlottesville is an adventure story worthy of a book.
"I hope to write my memoir someday," says Sorensen who earned her M.A. and Ph.D. in American Studies from the College. "I always tell my children I lived my life backwards," she adds, "because I didn't start college until I was 46."
Part of her story recently caught the attention of CNN.com. Sorensen was born in 1942 to a white mother and an African-American father, during a time when biracial marriage was illegal in California. Because the 2010 U.S. Census showed a large increase in multiracial families, CNN has been publishing a series of stories on the topic. CNN contacted Sorensen and profiled the three generations of her ­­­­multiracial family.
Not only was her mother white, "she was a communist," says Sorensen, breaking into a French worker's song. Sorensen spent many evenings as a child in the company of left-wing thinkers and activists. She recalls her mother driving to the airport to pick up W.E.B. Du Bois, the renowned African-American intellectual, who spoke at her church in the 1940s.
Sorensen was surrounded by the world of ideas, but she was also surrounded by land and the agrarian lifestyle. Growing up in rural areas of California outside of San Diego, she learned to love the land. Her mother taught her to garden at an early age.
"I was gardening since I was 9 or 10 years old," says Sorensen. "I always felt connected to rural people … people who are making their economy from the land. They have an element of self-reliance."
Although a tremendous reader, Leni couldn't stand the social and political setting of high school. She dropped out of school after 11th grade and got married. She had her first son, Kierk, in 1960. Sorensen began to actively pursue her interest in music and dance and joined a musical group called the Womenfolk as a guitarist and singer. In 1963, she moved to New York City and traveled the world with the band for the next three and a half years.
The Womenfolk had one Billboard Top 100 hit — their version of the folk song "Little Boxes." It's one of Sorensen's favorites and is the shortest record, at 1 minute 3 seconds, ever to make the Top 100. The song, written by Malvina Reynolds, satirizes suburban sprawl "made of ticky tacky" and conformist middle-class attitudes.
"The John Birch Society wrote letters to radio stations to stop them from playing it because they thought we were communists," says Sorensen with a laugh.
The Womenfolk were the only all-female folk group at the time, and they performed on several episodes of the Ed Sullivan Show as well as The Red Skelton Show and other television programs.
After the band broke up in 1966, Sorensen moved back to California. She continues to have a relationship with the other band members and occasionally they will get together and sing. Back in Los Angeles, Sorensen had another son, Nikolas, in 1969 with her second husband, a cinematographer who would often use Leni as a model. Always exploring a variety of interests, that same year Leni performed in a Los Angeles production of Hair . . .
. . . "I like the process — the doing of these things," she says, "and if other people want to do it with me then that is really cool."
Sorensen shares this wisdom on her blog called the View from Indigo House , writing about "food, history, rural life, and how we connect our cultural past and future."
There comes a point at the end of each day when, after leaving Monticello, Sorensen no longer has to focus on the past and can live in the present. She can tend her own garden and create what she wants for dinner — maybe today it will be a BLT if the tomatoes are ripe.
This article first appeared in the William & Mary Alumni Magazine. Full article available at the W&M Alumni Association.