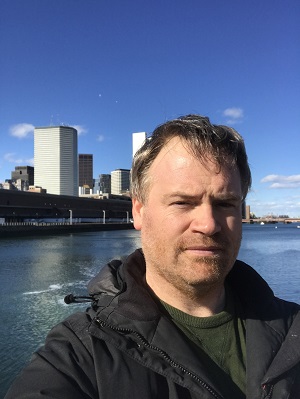 Scott Challener
Visiting Assistant Professor
Office: Tucker Hall 033
Office Hours: Mondays & Wednesdays 12:30-2:30
Virtual Office Hours: {{https://calendly.com/sdchallener/20-minute-conference-virtual-office-hours}}
Email: [[sdchallener]]
Webpage: {{https://hcommons.org/members/schallen/}}

Areas of Specialization
Twentieth and twenty-first century U.S. literature; Latino/a/x literature and culture; Latin American literature; hemispheric studies; comparative modernist studies; poetry and poetics.
Publications
"Addressing Alien Worlds: Publics and Persons in the Poetry of Jack Spicer," Contemporary Literature, Winter 2017, Vol. 58, No. 4.
"Genre and Nationality in Nineteenth Century British and American Poetry," with Meredith McGill, et. al., Teaching Transatlanticism: Resources for Teaching Nineteenth-Century Anglo-American Print Culture, edited by Linda K. Hughes and Sarah Robbins, Edinburgh UP, 2015.
Essays
"'A Breathable Language': Oliverio Girondo and the Poetry of the Americas," Los Angeles Review of Books, 11 April 2019.
Langston Hughes: "Harlem." Poem Guide for the Poetry Foundation, forthcoming.
Poetry
Individual poems appear in Pangyrus, Lana Turner Journal, Gulf Coast, The Mississippi Review, RHINO, The Collagist, Narrative Magazine, and The Cortland Review.
Background
B.A. University of Rochester; M.A. Rutgers University; Ph.D. Rutgers University