Vangie Mercado: Kindness in the Commons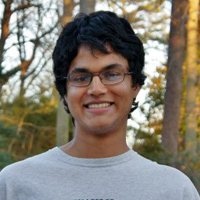 Editor's note: Earlier this semester, Jim Ducibella and David Williard of the Office of University Relations issued a challenge to students in one of English Professor Joanne Braxton's classes: Find people on campus
,
faculty or staff, that you feel are "unsung." Explain why you feel that way and, if approved, write a profile of that person for publication on this website
.
This is the second in a series of five such stories that will appear as part of the "Behind the Bricks" series over the next few weeks.


"It's not only about food," said Evangeline "Vangie" Taguines Mercado.
It is about food served with heart.
Nourishment comes in various forms, Mercado, a stout-hearted attendant at the Commons Dining Hall, explained. One form involves what is tasty, scrumptious, delectable.  The other form can revitalize the spirit. "Ms. Vangie," as Mercado is known, connects the two, serving up fruity ice and flavorful milkshakes with kind words and warm smiles that can leave students guessing as to which is sweeter.
"I give physical, emotional and spiritual bread," she said. Indeed, she seems to specialize in the little things that ultimately matter.
"A smile at students is sometimes enough," said Vicki Nicholson, her longtime friend and supervisor at the Commons. "When they see her, 'it's like my mom' they say. It's enough to make them feel good. It helps."
"She really cares, like a grandma or an aunt," added Yena Kim, '15, one of many students who know her. "Near the start of freshman year I was at the dessert station one day and she came around, asking 'How are you?' 'How are you adjusting?' 'Are you doing okay?'"
The maternal nature Mercado displays toward students is part of her fabric. Growing up in the Phillippines, she at first wanted to become a nun and later a nurse. Her studies led her from poverty to prestige as she graduated with a degree in economics from the University of the Philippines. Afterward she worked in computer training, with promotions constantly coming down the pipeline. With a college education and a secure job, immigrating to the United States in 2010 was the most difficult experience of her life.
"We had nothing.  Travel light in life's journey," Mercado said. "Just like mustard seeds in the vast ocean. Either swim or sink."
At first Mercado struggled to fit into a new country, a new life and a new job. "It was hard for her to adapt," recalled Nicholson, who helped arrange for Mercado and two of her sons to work at William & Mary. Now she finds joy in her work, wearing her uniform with pride every day.  In addition to working another part-time job in her 10-hour workday, Mercado volunteers at a nursing home on her one day "off" each week. There she has become a confidant for the elderly, giving them companionship that no one else can, or perhaps will, provide.
"Life here is different. Everyone is just too busy," mused Mercado. Again, it is she who makes connections. At the nursing home there are people who have received awards and accolades in their lives; at the university, students are being prepared to work toward similar distinctions, she pointed out.Instead, she seems to see on a different level, approaching individuals with her faith and her sense of family.
"I have five sons- a basketball team! And an adopted son soon to be ordained a Jesuit priest. I'm their queen!" she quipped, laughing. "I am their muse."
Three of them, Kim, Van and Ray are in the United States, while the other two are still in the Philippines. Her entire family gathers via Skype every night to pray the rosary before bedtime.
"I can't imagine how they do it," said Nicholson. "But it's her faith that keeps them going. Without faith, (Mercado) could not endure the hardship of her family being apart."
Fortunately for the campus community, Mercado does not limit her definition of family. "I treat William & Mary students like my own children—that is why I give them the best."
She asks her church group to pray that "she will be an instrument of goodness." She wants students to feel as if they are "never an inch from home."
"I want to give her a hug every time I see her," said Kyle Titlow '15. "Whenever I have a bad day, she brings out cookies for me, and she really does make me feel better."
It is indeed not only about the food.