W&M team wins top honors at iGEM synthetic biology competition
A team of eight William & Mary students won the Grand Prize at the International Genetically Engineered Machine synthetic biology competition.
Judging of the projects took place Sept. 24-28 at iGEM's annual Giant Jamboree in Boston. The results were announced Sept. 30 by the iGEM Foundation.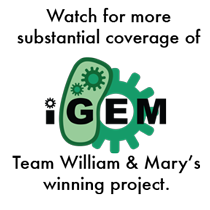 The William & Mary team was led by Andrew Halleran '16 and Caroline Golino '17. The team also includes John Marken '17, Elli Cryan '18, Taylor Jacobs '16, Michael LeFew '16, Joe Maniaci '18 and Panya Vij '17. Their faculty mentors were Chancellor Professor of Biology Margaret Saha and William Buchser, visiting assistant professor of biology.
Their project, "Measurement of Promoter-Based Transcriptional Noise for Application in Gene Network Design," was tops among the 280 teams in the Undergraduate Division. William & Mary also was the only North American team in any of the competition's three divisions. In addition to the Grand Prize, the team also won honors for Best Measurement Project, Best Education and Public Engagement and Best Presentation.
"More than 2,700 participants from schools in every corner of the world came to Boston this week, testing their knowledge of synthetic biology in the ultimate test as teams worked to solve real-world challenges by creating novel genetically-engineered systems," said Randy Rettberg, president of the iGEM Foundation, in a news release. "In our 12th year, the annual iGEM competition has not only become the central means for universities to teach synthetic biology, but iGEM has become an incubator — with the Giant Jamboree seeding the market with new innovations. Many winning projects and teams form new companies that quickly make an impact, resonating across the global marketplace."
Events at the five-day iGEM 2015 Giant Jamboree included oral presentations and poster presentations from teams spanning 39 countries. The Jamboree included 34 workshops spread across five categories: community workshops, sponsor workshops, "After iGEM" workshops, technical workshops and new track workshops. In addition, there were a variety of social events for attendees.
The
iGEM Foundation
is a non-profit organization dedicated to education and competition, advancement of synthetic biology and the development of open community and collaboration. The iGEM Foundation inspires future synthetic biologists by hosting student-led teams in the International Genetically Engineered Machine Competition. iGEM also runs the
Registry of Standard Biological Parts
with over 20,000 specified genetic parts — the world's largest collection of standard DNA parts contributed by an open community.