Dylan R. Kolhoff '14 receives Todd Weaver Scholarship
Todd W. Weaver '08 sold his motorcycle to have the money he needed to study abroad in Russia. Because of the efforts of Weaver's family, Dylan R. Kolhoff '14 and future William & Mary students won't have to make a similar sacrifice.
In early August, Kolhoff, an international relations major from Richmond, Va., packed his bags and headed for a semester abroad studying at Peking University in Beijing, China. A $2,500 scholarship awarded from the 1st Lt. Todd W. Weaver Memorial Endowment helped make the trip possible.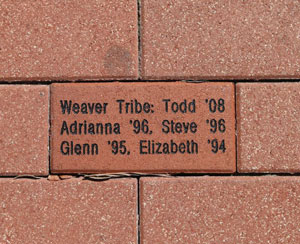 "Being chosen for the Todd Weaver scholarship is a reminder of the importance of cross-cultural understanding," said Kolhoff, who is minoring in Chinese and hoping his global experience will reveal opportunities to possible career paths.
He sees the Weaver scholarship as "an invitation to make the most of my time abroad."
Weaver, an Iraqi war veteran when he enrolled at William & Mary, returned to military service after majoring in government and graduating summa cum laude and Phi Beta Kappa in 2008. He was killed in action in Kandahar, Afghanistan, on Sept. 9, 2010. The 26-year-old husband and father was leading his Army platoon on a night reconnaissance mission when he was killed by an improvised explosive device (IED).
His family and his memory were embraced by the College community. Flags at the College were flown at half-mast in honor and memory of Weaver, with one being presented to his young widow, Emma Cloyed Weaver, by President Taylor Reveley at a memorial service in Williamsburg.
A plaque honoring his memory was placed at the campus ROTC building, where Weaver was a cadet battalion commander as he earned his degree. The Veterans Society of William & Mary dedicated an American beech tree and plaque to Weaver's memory on the campus grounds near the Brafferton's Jamestown Road pathway. Weaver's Army boots, placed there more than a year ago, still mark the spot.
Yet what continues to build a legacy and nurture his memory for the Weaver family is the scholarship they set up through the College to support study abroad opportunities for William & Mary students interested in government or international relations. The generosity of friends, students and people in the community generated the $50,000 needed to establish the endowment. Nearly $35,000 of that came from the Student Athletic Advisory Council's sales of "One Tribe. One Family" wristbands.
On Sept. 11, 2011, a day marking the 10th anniversary of the terrorist attacks that prompted Weaver to enlist in the Army National Guard after high school, and two days after the first anniversary of his untimely death, the 1st Lt. Todd W. Weaver Memorial Endowment was announced by his family during a campus gathering by the memorial tree.
It was a somber and sweet occasion, his family recalled. What's important, said his parents, is for William & Mary students today and in the future to have a life-enriching experience by traveling and learning overseas.
"Establishing the scholarship … we know Todd's smiling," said his mother, Jeanne H. Weaver of Hampton, Va.
Born in Fairfax, Va., Todd grew up in three countries overseas. His father, Donn A. Weaver, a foreign service officer, was assigned to seven nations in Africa and Eastern Europe as his four children grew up. Todd, the youngest, learned Hungarian as a toddler during the family's two years in Budapest. His formative years were spent in Lagos, Nigeria, while the lessons of early high school were learned in Sofia, Bulgaria.
Todd finished high school in Williamsburg, graduating in 2002 from Bruton High School. Enlisting in the Army National Guard, he spent 10 months deployed in Iraq as part of Operation Iraqi Freedom. He then came to William & Mary, where he chose to build upon his understanding of the world through his studies on campus and abroad.
The fall semester of his senior year in 2007 was spent studying in St. Petersburg, Russia.
"He wanted to get into the military attaché program," his father explained. "He spoke French and Russian. He knew the world and had been in the world. He experienced the world not just as a soldier, but as an ambassador through armed diplomacy."
To generate the money he needed for travel and other expenses while studying abroad, Todd sold his prized possession — his motorcycle — his parents recalled. "He purchased it with money earned while in Iraq with the National Guard," his mother said. "I remember that he had it and all accessories chosen before he returned from Mosul, Iraq."
But Todd's semester abroad was special for another reason, Donn Weaver explained. "He also invited his girlfriend, Emma, to visit him there. She had never been out of the country. And while she was there, he proposed."
Their daughter, Kiley, turns 3 in August. She was 13 months old when Todd was killed.
The Weaver family brick located in Clarke Plaza.
Donn Weaver recently purchased a brick for the Elizabeth J. and Thomas C. Clarke '22 Plaza of the Alumni House on campus. It bears Todd's name, along with those of two of Todd's siblings and their spouses, all of whom graduated from William & Mary.
"I call it the Weaver Tribe," Donn Weaver said.
"Todd was proud of his school. He'd want other students to have the experience of foreign travel" without having to sacrifice something precious to get there, Donn Weaver said.
The first recipient of the scholarship, David R. Newbrander '13, a Monroe Scholar and international relations major who grew up in Berlin, Germany, left school during the Fall 2011 semester, in part, to earn money for his planned semester abroad in Amman, Jordan, in spring 2012, said Professor John J. McGlennon, chair of the government department.
At the time, the Weaver endowment had not yet generated enough money to provide a scholarship. But the Weaver family, anxious to award the first scholarship, used proceeds from sales of Jeanne Weaver's oil and watercolor paintings to present Newbrander a check for $2,500, McGlennon said.
"He sent us a wonderful email from Jordan," Donn Weaver said. "We had met him at the Homecoming reception for the government department in October 2011 and had presented him with the scholarship in Todd's name."
Kolhoff, who will be in China during this year's department reception during Homecoming, said he has learned much about Todd and the Weaver family by perusing a website created in Todd's memory (1LTtoddweaver.org) and a website featuring Mrs. Weaver's artwork memorializing her son (jeanneweaverartist.com).
Kolhoff said the scholarship paid for his visa to China and will allow him to extend his time abroad to include additional travel and volunteering once his formal studies at Peking University have ended.
"That is part of what a college education is about," said Donn Weaver. "This could possibly impact a person's whole life. And the wonderful thing is that long after we're gone, the students who receive the scholarship would be connected to Todd."