Stamps 1693 Scholar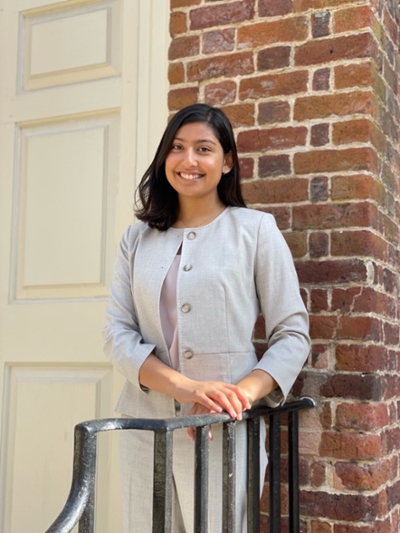 Hometown
Arlington, VA (Sidwell Friends School)
Majors
International Relations and self-designed major in Transitional Justice
Why W&M
Although I would like to say that I knew William & Mary was the place for me from the first moment that I stepped onto campus, I would be lying. Truthfully, I had no idea which college was right for me, even after application deadlines passed and decisions started rolling in. Information sessions blurred together, and campus tours were dizzying with information. For longer than I care to admit, too, I naively relied on rankings from US News & World Report to decide my college preferences.

When I packed my bags for the 1693 Finalist Weekend in Williamsburg– doubting completely that I would ever receive the scholarship– I was unsure of what to expect, and I was nervous that I would return home with even less clarity about which school to choose. However, after spending a few hours in the Murray House, I began to feel at home. I was struck by the passion, intellect, and generosity of spirit among the 1693 Scholars. I was taken aback by how openly I could interact with professors and how fervently they supported my ideas. I came out of the weekend with a definitive decision to attend William & Mary, connections to teachers and mentors that were already supporting my academic journey, and relationships with students that humbled and inspired me.
W&M Activities
Research Fellow for the International Justice Lab

During Fall 2020, I researched and coded the role of NGOs in the implementation of truth commission recommendations in Timor-Leste. This data will be used in the book "Governing Truth: NGOs, Accountability Politics, and Truth Commissions" by Professor Kelebogile Zvobgo.
During Spring 2021, I researched and coded the implementation of memorialization-related truth commission recommendations across 15+ other countries.
I am currently working on a research proposal with Professor Zvobgo, Daniel Posthumus, and Nathan Liu, which is focused on truth commission proposals and mandates in the United States.

Co-Director of the Exodus Project

A new research lab in W&M's Global Research Institute, the Exodus Project partners with in-country stakeholders to develop evidence-based solutions to challenges faced by vulnerable groups during displacement crises.
Our current project focuses on the lack of a sustainable, multisectoral approach to address inadequate menstruation hygiene management (MHM) within Venezuelan migrant communities in Colombia. We are working with in-country partners to fill evidence gaps and provide recommendations regarding the inadequate MHM in these communities.

Research Intern, Project on International Peace and Security (2019-2020) 

I collaborated with a research fellow (a senior at W&M) to analyze the rise of transnational repression. I wrote policy briefs for my fellow as well as edited their white paper, which they presented to the State Department and non-profit organizations such as Freedom House.

Associate Editor, The Monitor (2019-2020)

I edited articles for the William & Mary journal of international studies. We published one issue per semester. 

Attorney, Mock Trial (2019-2021)

The Mock Trial team litigates criminal or civil cases created by the American Mock Trial Association (but only one case per year). My teammates (other attorneys or witnesses) and I analyzed evidence and affidavits to craft and present statements, direct and cross examinations, and objection arguments.
High School Activities
Co-Founder of Non-Profit Organization, HER

HER creates sustainable libraries with quality learning materials for underfunded girls' schools in developing countries. We have opened a total of 13 libraries across rural and urban areas of Pakistan and Morocco, which serve about 20,000 students. www.her-education.org
Student Mentor for LearnServe International
Editor-in-Chief of InLight Diversity Magazine
Junior and Senior Student Government Representative
Junior Varsity Cross-Country
Varsity Debate
Awards / Distinctions
Taco Bell Foundation Live Más Scholarship
1st Place, Seton Hall Sustainable Development Goals Challenge
Ashoka and T-Mobile Changemaker Challenge
Ashoka STEM for Changemaking Challenge
Connect DMV Social Justice Scholarship