Watkins Family 1693 Scholar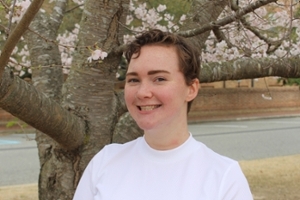 Hometown
Poughkeepsie, NY
(Arlington High School)
Major
Biology

Why W&M
Whenever I think about William & Mary, I immediately think of the community. When I first came to the campus, I felt immediately welcomed and I saw how supportive and passionate the faculty were. The professors actually want to work and interact with undergraduates, and the work they do is important to them. It was refreshing to be in such a positive and collaborative environment, where people value and recognize each other's strengths. When I walked around campus, I felt encouraged and right at home rather than overwhelmed. Academics and liberal arts are important to me, but beyond that, I can see myself growing as a person both in knowledge, character, and self-awareness here. I also know that I will always have a family at William & Mary. There are opportunities here for everyone, whether your goal is to gain experience, to meet people, or just to enjoy yourself. On Day for Admitted Students, the phrase that stuck with me was, "Those that come here, belong here." I think that sums up William & Mary to me.
W&M Activities
Co-Captain of the Club Field Hockey Team
Vice President of Syndicate, the student-run, student-choreographed hip-hop dance club
Orientation Aide
Intramural sports
Research
My sophomore year, I joined Professor Jon Allen's Marine Invertebrate research lab and got to work on my own project. I raised sea stars from fertilization through larvae until they settled as juveniles and was measuring their growth in natural seawater compared to artificial seawater ("instant ocean").
August 2017
I had the privilege of traveling to North Wales for a field course in Coastal Marine Ecology taught by VIMS professors. The opportunity to travel and explore while working hands-on in intertidal zones, salt marshes and mud flats was my absolute dream come true.
High School Activities
Level 9 Gymnast
Captain of the Field Hockey Team
Track & Field Team
Piano
Trombone player in Wind Ensemble
Team Translator of APU Mexico Outreach
Volunteer for Coral Restoration Foundation
Student Athletic Council
Mission AHS Club
Awards / Distinctions
Class Valedictorian

Science Research: Lexus Eco Challenge Grand Prize