Murray 1693 Scholar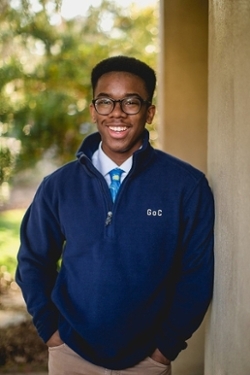 Hometown
Manassas, VA (Osbourn Park Senior HS)
Areas of Interest
Medicine, Biochemistry, Sociology & Hispanic Studies
Why W&M
Going into the application process, I truly didn't know what I wanted from my college experience. To account for this uncertainty, I ended up applying to a wide variety of schools, each with unique aspects that interested me. What initially drew me in to W&M was its prestige and legacy. The historical aesthetic fascinated me, and I loved the idea of learning at the nation's second oldest institution.

The 1693 Finalist Weekend was my first time visiting the campus. Although my visit was cut short due to a theatre production I had to be at, it entirely convinced me that W&M is where I belong. What truly makes the college unique is its vibrant community. During my stay, I felt wanted more so than any other school I visited. The faculty and students I talked to had a genuine interest in my experiences, values, and aspirations. These distinct interactions allowed me to truly picture myself as a part of a collaborative community rather than being just another student.

Another characteristic that drew me in was the distinguished undergraduate research. I worked in a lab at a local university throughout high school, so research was an attribute I prioritized during my college search. Testimonials from the current scholars conveyed how easy it is to attain these opportunities, even as a freshman.

Considering the community, research, and, of course, financial support, I know that I made the right decision in joining the Tribe.
W&M Activities
REACH Undergraduate Research Program

During the summer of 2020, I was able to learn in-depth about topics related to cardiovascular health. I also worked with Dr. Vanessa B. Sheppard at VCU Medical School on disparity research, specifically focusing on hypertension in Black breast cancer survivors.
During the summer of 2021, I worked with Dr. Sheppard on a cross-sectional survey to assess self-care and quality of life in Black cancer survivors.

Cell Biology Research with Dr. Shantá Hinton

Dr. Hinton's work focuses on characterizing MK-STYX, a pseudophosphotase involved in a number of signal transduction pathways. My research aims to understand the role of MK-STYX in the Neuro2a cell line.

MindVersity, National Director of Recruitment and W&M Chapter Co-Founder

MindVersity is a new organization focused on bridging the gap between mental health resources and students of color on college campuses across the globe. Through education and the development of peer support networks, we aim to create a space for the marginalized, eradicating the cultural stigma behind mental health.

Medical Scribe & Doctor's Assistant, Pariser Dermatology
Volunteer, Lackey Free Clinic
Gentlemen of the College, Assistant Business Manager
No Ceiling Acapella
Branch Out Alternative Breaks (second year)

I worked on community-based service projects focused on race & reconciliation in fall 2020 and winter 2021.

Member of Merrimac Mentors (second year)

Merrimac is a student organization that volunteers at a local juvenile detention center.

Botetourt Chamber Singers (first and second year)
Sinfonicron 2021, Vocalist
High School Activities
The Governor's School at Innovation Park
Environmental and Microbiological Research at George Mason University
Lead Volunteer at Sentara Hospital
Vice President of International Heritage Society
Treasurer of Spanish Honor Society
Medical Club
Math Honor Society
Actor in School Theatre
Studies in Classical Piano
Madrigals Vocal Ensemble
Awards / Distinctions
William & Mary Scholar (WMSURE)

Hulon Willlis Memorial Scholar (2021)

VSGC STEM Bridge Scholar

James Monroe Scholar

AP Scholar with Distinction

Prince William County Youth Salute Semi-Finalist

OPHS Choral Award