Class of 1940 1693 Scholar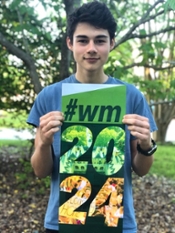 Hometown
Williamsburg, VA
(Jamestown HS / Governor's School for Science and Technology) 
Majors
Mathematics and Physics double major
Why W&M
I've lived in Williamsburg my whole life. Growing up, I had plenty of ways to experience what William & Mary was like. In going to William & Mary-hosted quizbowl tournaments, working on research projects with William & Mary faculty, and even taking William & Mary math classes as a high school student, I learned firsthand how seriously this place takes its commitment to its community.

I was excited to be considered for the 1693 Scholars Program; I understood how big of an opportunity it was. At first, though, I was still concerned about William & Mary being too close to home. However, after a teacher and a current 1693 scholar who were in similar situations shared their own positive experiences with me, I felt convinced that I would find no trouble being my own person at William & Mary. 

I loved meeting the other awesome, friendly, dedicated, and constantly helpful 1693 scholars, current and future. Even though the coronavirus pandemic prevented us from seeing each other in person, I know after our virtual meetings and online game nights that they are the kind of people I want to spend four years with. I am certain that I made the right choice when I accepted the 1693 scholarship offer and that I will feel at home at William & Mary.
W&M Activities
Summer 2021
Over this past summer, I rewrote and updated code for analyzing data from plasma physics experiments. This code may help improve understanding of drift-wave turbulence in plasmas and I'll present my research at a physics conference in November. Professor Mordijck was my advisor for this project.
High School Activities
Rowing (Williamsburg Boat Club)
Scholastic Bowl Captain
Middle school MathCounts volunteer
Math Teacher Assistant
Math Honor Society President
French Honor Society President
Awards / Distinctions
2019 US Physics Olympiad national top 150
Four-time American Invitational Mathematics Exam qualifier
Three-time Scholastic Bowl 4A division state champion team
National Merit Finalist
VA Governor's French Academy
VA Boys State House of Delegates
Outstanding Junior Research Award