Murray 1693 Scholar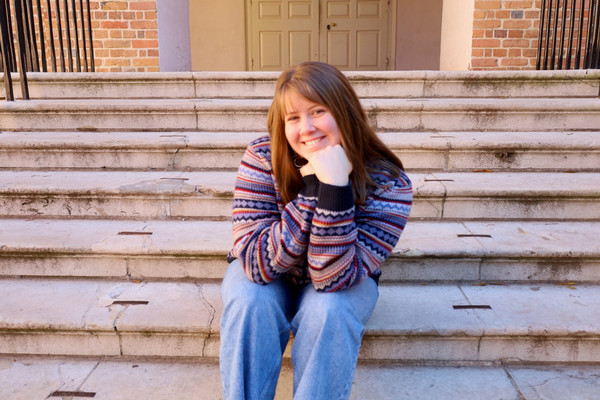 Hometown
Harrisonburg, VA (Harrisonburg HS)
Areas of Interest
Geology, Environmental Science, Marine Science, Hispanic Studies
Why W&M
While I often struggle to make decisions, choosing William & Mary as my new home was something that just felt right. Growing up in Virginia, I always knew that I would at least apply to W&M, and during high school I always regarded it as a serious option. Although I had visited Williamsburg before, I took my first tour of the school in November 2019, just months before the COVID-19 pandemic made such opportunities close to impossible. Despite spending limited time there, I distinctly remember telling my mom on the way home that I did not know why, but I had a feeling W&M is where I would continue my education.

Throughout the college application process, that feeling never subsided. Even when I thought that I would rather attend another institution, I could not shake my gut sense that W&M was the school I would ultimately choose. By the time decisions were being released, W&M had risen to the top slot on my college list. At this point, I had already begun the process of submitting my materials for the 1693 process and was chosen as a finalist for the scholarship. While it still seemed like a long shot after receiving the semi-finalist notification, reaching the top 25 made me realize getting the scholarship was a possibility.

I was no longer able to deny that W&M was the school for me after the virtual finalist week. Despite never meeting any current scholars in person, the welcoming community that I experienced was a stark contrast to any other school's event I had attended. Almost every school I was choosing between had advertised their strong communities, but W&M was the only one where I was actually able to believe it by experiencing that kindness first-hand. I already knew that W&M had what I wanted––perfect size, interesting programs, access to faculty, research opportunities, etc.––and more, but your school has to feel like home. That feeling of really "clicking" with a school was something I only experienced with W&M, which meant that the decision was practically already made. When I heard back about receiving the scholarship, everything fell into place. It truly seemed meant to be, and I am so excited to start my journey as a member of the Tribe!
High School Activities
President of Governor's STEM Academy
Captain of Debate Team
Girl Scouts
Technology Student Association Secretary
Varsity Swim Team
Envirothon Team Captain
Summer Governor's School Mentorship with the Virginia Institute of Marine Science
Research with Massanutten Regional Governor's School
National Honor Society
Computer Science Honor Society
Mu Alpha Theta
Shenandoah Youth for Climate
Gardening/Horticulture Club 
Awards / Distinctions
Girl Scout Gold, Silver, Bronze and Triumph Awards
George Washington Book Award
1st Place 5D Regional Debate Tournament (VHSL)
1st Place 5CD Super Regional Debate Tournament (VHSL)
3rd Place State Debate Tournament (VHSL)
National AP Scholar with Distinction
Departmental Academic Excellence Awards: English, Math, Science, Social Studies
3rd Place TSA Dragster Design
1st Place TSA Debating Technological Issues