Stamps 1693 Scholar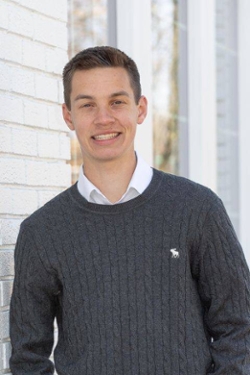 Hometown
Mason, OH (Cincinnati Hills Christian Academy)
Academic Interests
Economics, Public Policy and Applied Statistics
Why W&M
Every junior at my high school has to have a ninety-minute-long meeting with their counselor to discuss the colleges to which they plan to apply. It gives the counselor an opportunity both to make sure the student knows what they are looking for in a college and to suggest other schools for the student to consider.

The key to having a successful and productive meeting is having an open mind to your counselor's suggestions. I, however, fancied myself quite the expert on the college search process, and accordingly approached the date with more than a twinge of… arrogance, in a word. So, when my counselor handed me a post-it note with a list of four colleges she thought I should consider researching, I was predisposed to throw it away the instant I left her sight. Thankfully, I forgot to do so, and my mom found it and encouraged me to at least engage in the rote mundanities of looking up basic facts about each. I did so unenthusiastically, and was quite pleased to discover that for one reason or another the first few schools on the note were not for me. However, I reluctantly admitted that the fourth — William & Mary — did have a couple appealing traits. It has an excellent public policy program, it has spectacular research opportunities for undergrads, it has a kind, driven, selfless, and supportive student body, and it has some cool scholarship thing called the 1693 Scholars Program or something like that. So, I begrudgingly applied.

By the time I found out I was a semi-finalist for the 1693 scholarship, I had done enough further research to be formally excited about W&M as an option. After being named a finalist, my mom and I flew out to Williamsburg for a couple days where we walked around campus and even got the opportunity to meet with Professor Cristol and a couple senior scholars. They were all so kind and generous with their time, and I knew in that moment that W&M is where I wanted to spend my college years. The virtual finalist weekend confirmed that inclination—as yet again everyone with whom I interacted spoke so highly of the program and W&M more generally—and sure enough I was extended an offer and—after a few hours of pretending to deliberate—accepted.
High School Activities 
Varsity Tennis Team Co-Captain
Class President in Student Government
Student Organized Service Group Co-Leader
Peer Advisor, School Ambassador
International Program Lead-Team Member
Helped Teach an Algebra II Class
School Leadership Board
Sunday School Teacher
Tennis Coach
Self-designed Independent Study about Intersection of Religion and Politics
National Honor Society
Mu Alpha Theta
Awards / Distinctions
Valedictorian
National Merit Finalist
National AP Scholar
Presidential Scholar Semi-Finalist
4 Year Math Award, 4 Year English Award, 10 Class Awards