Stamps 1693 Scholar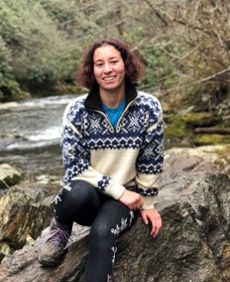 Hometown
Culver City, CA (Culver City HS)
Areas of Interest
Biology, Data Science, Environmental Science and Policy 
Why W&M
I never expected to attend William & Mary. I applied because my mentor gave me a list of schools she thought would be a good fit for me. All the schools on that list were small and located in the pacific northwest, somewhere I did not want to be. All the schools but W&M that is. I felt that I needed to respect the time my mentor had put into crafting a college list for me by applying to at least one those carefully selected schools. Based on what I found online W&M was a good size, offered an Environmental Science and Policy major, was generally strong in the fields I was interested in (biology, environmental science or government) and had a club gymnastics team that even someone with my limited abilities could join. So, I decided I might as well apply.

As fitting for me as W&M seemed on paper, what truly made me want to attend were the people I met during Finalist Weekend. The current scholars were all incredibly welcoming and kind and seemed truly excited about being at W&M and meeting us. The professors that I met all seemed genuinely invested in the finalists, even though we were only potential students. Most importantly, the other finalists were all people whom I could seem myself being friends with for the next four years. So as cliché as it may sound, it really was the 1693 Scholar community that finalized my college decision. Go Tribe!
W&M Activities
President of Club Gymnastics
Teacher at Religious School in Williamsburg
Member of Climbing Club
Research
ACER Lab (Applied Conservation & Ecological Research)
GeoLab (Geospatial Evaluation & Observation Lab)
Summer 2019
Evolutionary Biology research through REU at CUNY Brooklyn College. Spent summer in New York City studying mating behavior in pipefish. I also worked at flying trapeze school over school breaks.
High School Activities
Baldwin Hill Greenhouse Program at the LA Audubon
Southern CA Junior Academy of Sciences
Circus Performer for the Le Petit Cirque
Vice President of MESA (Engineering Club)
JPL Invention Challenge Team Captain
Cross Country
Chemistry tutor
Assistant Coach at Le Studio
Camp Counselor at Temple Akiba Day Camp
Awards / Distinctions
National Merit Commended Scholar
CA Junior Science and Humanities Symposium Semi-Finalist
CA Scholarship Federation