Murray 1693 Scholar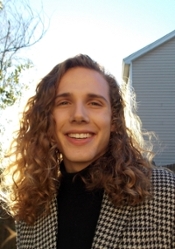 Hometown
Charleston, SC (Academic Magnet HS)
Areas of Interest
Chemistry, Public Policy, Biology, Public Health
Why W&M
My sister is a graduate of William & Mary, and I loved going to visit her in Williamsburg, especially in the fall when the leaves were changing colors. These brief experiences with William & Mary's campus alone were what led me to initially apply. It was after I began doing research into schools and learning about William & Mary's incredible community and unmatched reputation for undergraduate research that I began to warm to the idea of attending W&M, but, going into the Finalist Weekend, I still wasn't sure where I wanted to go to college. 

The Finalist Weekend was kind of a different process for our class because it was all online, and it was clear that we would be missing out on a lot because we didn't get to have an in-person experience on campus. However, the people with whom we would be sharing this program did an incredible job of recreating the weekend in the best online way possible. For me, meeting the 1693 Scholars and finalists was the most convincing part of my college decision process. It was not just the fact that William & Mary has incredible undergraduate research opportunities or excellent professors; it was also listening to the way the scholars excitedly described their studies, their research, and their incredible accomplishments in their time at William & Mary. Each scholar whom I met had a unique niche of interests, research, and community involvement that William & Mary had allowed them to develop. Talking to the scholars made it clear that William & Mary is a place that nurtures a communal love for learning rather than unhealthy competition. 

After getting the call, I took a day or two to think about it, but I had made my decision as soon as my interview was over. You can pursue higher education at many places, but the community and opportunities of both William & Mary and the 1693 Scholars Program, W&M's emphasis on developing well-rounded students through a liberal arts education, and the enthusiasm of the students towards each other, their professors, and their interests, were the ultimate factors in my decision to attend William & Mary. I could not be happier with my choice. 
W&M Activities
High School Activities
Ocean Rescue Lifeguard
Cross Country Team Captain
Track and Field
Planned Parenthood Volunteer Patient Greeter 
Intern for Joe Cunningham for Congress Summer 2018
Freshman Class President
President of AMHS Young Democrats Club
National Honor Society 
National French Honor Society
Mu Alpha Theta
Awards / Distinctions
Class Valedictorian
AP Scholar with Distinction
National Merit Scholar
National French Exam Gold Medalist
SCHSL 3A All-State Runner
2019 Swarthmore College Book Award