Murray 1693 Scholar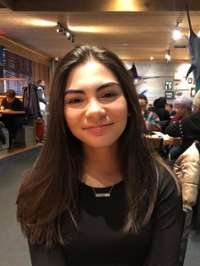 Hometown
Yorktown, VA (Hampton Roads Academy)
Areas of Interest
Neuroscience, Biology, Biochemistry, Hispanic Studies
Why W&M
Growing up only 30 minutes away from William & Mary, my familiarity with the school began much earlier than my college application process did. I first stepped foot onto the campus as a sophomore and instantly fell in love with the beauty and warmth of Williamsburg and its residents. Out of all the schools I toured, W&M was the only one to make such an impact on me. It already felt like home.

As a passionate scientist who would spend everyday in a lab if given the option, I was immediately taken by with the sheer amount of research happening on campus. I grew excited about the opportunities W&M had to offer me as I heard countless stories of undergraduates, even freshmen, getting to work in labs with professors. It was obvious to me that the school's smaller, tight-knit community offered its students a more intimate and accessible college experience than some other larger schools may be capable of. It felt as though every student had the opportunity to live their college years to the fullest with passionate professors to help them succeed.

Despite my initial fondness for the school, as my college application process continued on, I wasn't quite set on W&M. In theory, it had everything I wanted: amazing academics and research opportunities in a beautiful town. However, I was still unsure that W&M was the place for me. It wasn't until the virtual 1693 finalist "weekend" that I was certain my next four years should be spent in Williamsburg. The enthusiasm, kindness, and passion the students exuded convinced me that W&M was not only a place for me to further my education, but a collaborative community of supportive professors and students. Even from behind a screen, the people I met during the finalist weekend made me feel welcome. My experience during the finalist weekend caused any previous hesitancy I had to completely vanish, as I knew that William & Mary was the perfect place for me to learn, grow, and be proud to call my home. 
High School Activities
Neuroscience Internship with Dr. David Knight at Christopher Newport University
Co-president of Operation Smile Club
Operation Smile Virginia Regional Leadership Council Member
Secretary of Spanish Club
Vice President of Preventing Animal Cruelty Club
Varsity Riding Team member
Language/Science/Math Tutor
Mu Alpha Theta Math Honors Society
National French Honors Society
Cum Laude Honors Society
Awards / Distinctions
National Hispanic Scholar
National AP Scholar with Distinction
National Spanish Exam Bronze and Silver Medalist
National French Exam Silver and Gold Medalist
Princeton University Book Award
Golden Skull Biology Award
Honors Chemistry Award
Honors French IV Award
AP Biology Award
Highest Academic Achievement Award
Interscholastic Equestrian Association National Champion
Interscholastic Equestrian Association Local Sportsmanship Award
Dr. Orders Outstanding Senior Project Award