Stamps 1693 Scholar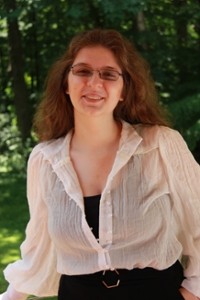 Hometown
Fairfax, VA (W T Woodson HS)
Academic Interests
Applied Statistics, Computer Science, Psychological Sciences
Why W&M
My first exposure to William & Mary was at a hackathon. One of my favorite parts of attending these competitions has always been meeting other students interested in CS, but at this hackathon, the attending W&M students' creativity particularly stood out to me—especially that of the first place winner, a 1693 Scholar. After the competitions, I looked through the portfolios of hackers at W&M, and I was surprised by not only their skills but by their passion and by the fact that many students involved in coding seemed to have interdisciplinary interests. As a student interested in many fields, this was my first hint that W&M might be the right school for me.

My experience at the hackathon led me to further research W&M as a school, upon which I learned about the CAMS Applied Statistics major. The interdisciplinary nature and the wide range of applications that this major had thrilled me; it showed that W&M was dedicated to teaching its students a variety of skills and preparing them for the future, not just releasing them into the world with the knowledge. I applied, and as I waited for college results, I researched the school further and began to enjoy it more and more—from the way my interviewer spoke about his experience to the bounty of resources the school had for its relatively small size.

When I was notified of my semifinalist status, I was overjoyed and immediately began brainstorming ideas for what research I could conduct if I got the scholarship. Our Finalist Weekend was online due to COVID, but I was struck by the love and attention that Dr. Cristol, Ms. Van Deusen, and the current Scholars put into making it the best possible experience regardless of the limitations. I was also lucky enough to meet some of the current scholars in person, and they fostered an incredibly warm and welcoming environment that made me feel right at home. When it came the time to make what would normally be a difficult decision between Brown University and William and Mary, the choice was clearer than I ever could have imagined. Between its interdisciplinary opportunities, its vibrant community, and the 1693 Scholars Program, W&M seemed like the place where I could truly thrive as a student. 
High School Activities 
Technical Aide at MITRE Corporation
President of W.T. Woodson Speech/Forensics
Volunteer speech teacher at QuaranTunes
Major League Hacking (competitor, awardee, and volunteer judge)
Frost Middle School National Science Bowl student coach
VSSEF participant and Fairfax Science Fair awardee
Future Problem Solvers Program participant and state awardee
Songwriting
Woodson Model UN
Computer Science Honor Society
National Art Honor Society
Volunteer at the Women's Center
Awards / Distinctions
Varsity Math Team Highest Score Award
RIT Computing Medal
Brandeis Book Award
National AP Scholar
National Merit Scholarship Finalist