Gore 1693 Scholar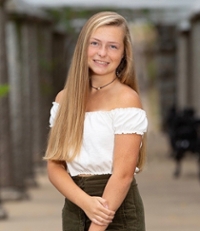 Hometown
Richmond, VA (Maggie Walker Governor's School)
Major
Economics
Why W&M
Throughout the college application process, I truthfully did not know what I was looking for in a college. No matter how many schools I visited or information sessions I attended, I never had that "perfect fit" moment where I knew that a school was meant to be. I could see the benefits of both a large research university and a small liberal arts college, certain that I would have to sacrifice either the extensive research opportunities of the former or the close-knit student-professor relationships of the latter.

The first time that I truly saw myself at any of the schools to which I had applied was in mid-February when I received an email notifying me that I was a Semi-Finalist for the 1693 Scholars Program at William & Mary. Although I was very hesitant to be too hopeful that early in the application process, I thought to myself that I had finally found a college choice that would not require sacrifice. William & Mary has countless research opportunities, especially in my areas of interest, and the 1693 Scholars Program would allow me to form meaningful connections with the renowned teaching staff.

What really sealed my decision was the experience I had during the virtual Finalist Weekend in April. I had the opportunity to interact with the supportive, positive, and engaging scholar community, and I knew that I wanted to be a part of it.
W&M Activities
Kappa Kappa Gamma Sorority
Club Soccer
High School Activities
Intern at the Central Virginia Legal Aid Society
Intern at FreeRoots Grassroots Advocacy Platform
Secretary of Model United Nations Club

Undersecretary General for External Communications for the GSMUN Conference XXIII

President of Spanish Club
Secretary of Arabic Club
Varsity Women's Soccer
Varsity Field Hockey
Tutor at Making a Difference for You, Inc.
SCA Student Representative
Member of the National Honor Society,
National English Honor Society
Spanish National Honor Society
Science National Honor Society
Mu Alpha Theta Honor Society
Thomas Jefferson History Honor Society
Arabic Honor Society
Awards / Distinctions
Harvard University Book Award
National Merit Commendation
National AP Scholar with Distinction
3rd place, We the People Nationals Competition 2020
National Spanish Exam Gold and Silver Medals