Murray 1693 Scholar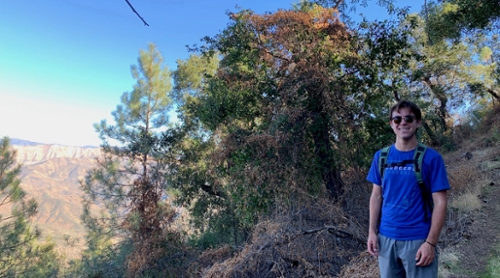 Hometown
Santa Barbara, CA (San Marcos HS)
Major
History
Why W&M
Spreadsheets, flow charts, and pro/con lists chock full of meticulously researched information: this was how I prepared to apply to college. Seemingly devoid of emotion, I picked which schools to apply to based on facts and numbers; the more tangible the numbers, the more confident I felt. But at a certain point, my brain fried from too many zeros and ones, I felt that college had to be more than that. So, throwing caution to the wind, without a spreadsheet for a safety blanket, I applied to William & Mary.
My only connection to a school I'd never seen two thousand three hundred and ninety five miles away was with a family friend. An alumnus, he threw himself one hundred percent into everything he did, giving back to our community in more ways than I could ever fathom. However naive, I figured that his alma mater had to be filled with more people like him, the kind of people who take their kids and their third grade friends to volunteer and make it more enjoyable than any game of basketball. People who were excited about doing good for their communities. I was right, and after each email, handwritten note mailed cross country, and virtual meeting, I felt refreshed and invigorated, for I had met a myriad of people excited about that very idea. So when offered a place in the 1693 Scholars Program, I didn't reference a spreadsheet, flow chart, or pro/con list, I just said "yes".
W&M Activities
Summer 2021
Through conversations with educators, community members, and officials, I crafted a strategic plan and presented it to the City Council regarding the development of an African- American Heritage Trail in Williamsburg. My advisors on this project were Professor Jody Allen and Professor Daniel Cristol.
High School Activities
Student Government
Mock Trial Team Captain 
California State Senate Intern, Senate District 19
Personal Assistant, 9th Circuit Judge
Actor and Producer in High School Theater 
Entrepreneurship Academy 
American Youth Soccer Organization Referee
Assistant Producer, On The Verge Summer Theatre Festival
Lead Counselor, Stage Left Productions
President of Advanced Men's Choir
Awards / Distinctions
Associates Degree with Honors, Santa Barbara City College
Best HS Performance in a Musical (2019), Ventura & Santa Barbara Counties 
Best Attorney - Santa Barbara County Mock Trial Finals: Pretrial 2019, Trial 2020
La Sociedad Nacional Honoraria Hispánica, Sigma Delta Mu - Santa Barbara City College
California State Seal of Biliteracy, Spanish