Watkins Family 1693 Scholar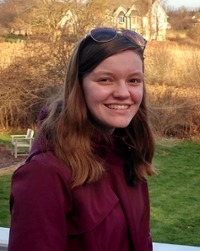 Hometown
Long Grove, IL (Adlai E. Stevenson HS)
Academic Interests
Computer Science, Data Science
Why W&M
When I first started looking at colleges, I did not expect to end up at a liberal arts school 900 miles away from home. Still, I can confidently say that I love my school. I chose Wlliam & Mary for more reasons than I can list here, but I'll boil it down to three: it's personal, it's collaborative, and it's enduring.

From the moment I met them, it's been clear that William & Mary students are smart, caring, authentic people. When I met the other 1693 scholars during the 1693 Finalist Week, they were not only excited to share all the things they loved about William & Mary, they were eager to get to know me as a person. On top of that, the staff at William & Mary are genuine and helpful. From handwritten postcards to a one-on-one meeting with Professor Cristol (before I was even accepted as a 1693 Scholar), it's clear that William & Mary is a school built on treating students as individuals, not numbers.

Furthermore, William & Mary is the most collaborative school I've seen. I talked with students who founded charities and started consulting businesses; every single one was quick to point out people who had helped them and point me to resources I could use at William & Mary. William & Mary students do not rise by others' failure: they lift each other up, help each other out, and instead of spending their time competing, they spend it learning.

When I call William & Mary enduring, I do not refer to the year it was established. Instead, I refer to the fact that a man who graduated more than 60 years ago eagerly offered to tell me about his time at the school. I refer to the fact that every person I've talked to has a friend or distant relative who went to William & Mary and "would be delighted to talk to you about it". William & Mary has a strong and vibrant culture that stays with its alumni their entire lives. That's what I really come here for: not just a school, but a lasting, learning, personal community.
High School Activities
Drum major for Marching Band
President of Scripts Studio Playwriting Club
Producer for 24 Hour Theatre Project
Student Leadership Advisory Council
Student designer for One Act and Musical Productions
Seamstress for Dress a Girl Around the World
Lector at Saint Mary of Vernon Parish
Children's liturgy assistant at Saint Mary of Vernon Parish
Teaching assistant at Summer Wonders Summer Camp
Lean In: Feminism Club
In The Loop (Knitting Club)
Failed Presidential Candidates improv comedy club
LadyJazz a capella
Awards / Distinctions
National Honor Society
International Thespian Honor Society
Tri-M Music Honor Society
National Hispanic Scholar
National Merit Finalist
AP Scholar with Distinction
Achievement in Technical Theatre Award
Cindy Burrows Award
Communication Arts Scholar Award
Illinois Seal of Biliteracy in Spanish
Division I Solo & Ensemble performer (Voice)
Division I Solo & Ensemble performer (Bassoon)