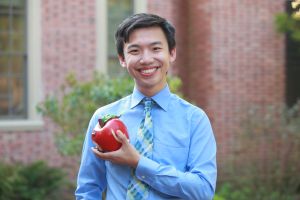 Jack Zhang
Assistant Dean of Admission
Regions: Southwest Virginia and Shenandoah Virginia, West Virginia, Georgia, Tennessee, Oklahoma, Mississippi, Maryland, Louisiana, Kentucky, Arkansas, and Alabama
Email: [[jzhang16]]

Hi everyone! My name is Jack Zhang and I am both an assistant dean of admission and a William & Mary alum. During my time here, I have become so immersed in this community that it has become a place that I have cherished. When you ask many people, chances are many of them won't tell you that they planned on being a dean of admission when they grew up as a kid. But I have always thought it would be the coolest job! I mean you get to travel to new places, meet interesting people, and get to hear stories from students all across the world. Not to mention talk about a place that you love, which I could do all day anyway. What could be better than that?
What I do
Around the office, I get to be a part of all aspects of the Admissions Office. Alongside reading applications and doing information sessions, I am on (almost) every team possible. Whether it be writing newsletters for the marketing and the communication teams, to planning a diverse array of events on the multicultural recruitment team, working with Tribe Ambassador volunteers, to even helping write for the Admit It! blog. It never gets boring and fulfilling to get to be a part of so many things. You could say that I am a "jack of all trades."
Why William & Mary?
When you walk on campus, there is the immediate feeling that you are part of something greater than yourself. This is a place with a history that is older than the country itself, but is shaped every day by the people that go here. It is full of warm, genuine, passionate, and down-to-earth people that all call this place their home. It's a place where you can have a 2 AM conversation about philosophy and the "meaning of life," but just as quickly delve into a conversation about their best cheese fries place. (Hint: It's definitely Paul's) I am so fortunate to have met some of the most incredible people during my time here and now get to take on the role of shaping future classes to come.
What's with the photo?
During my freshman year of college, two of my closest friends gave me this "apple bird" after coming back from Thanksgiving Break. It was the first gift that I had received from a friend in college and honestly probably the one of the most interesting gifts I have ever received. After being genuinely surprised with the gift asking "what this was all about," I was told that it reminded them of me. I was asked to name it, and after about an hour of thinking, I came up with the name "apple jack."
During the course of this photoshoot, the apple bird actually fell and broke into several pieces. After being somewhat devastated, I came back one day from high school visits to find that it had been pieced together again by two of the other new deans, Jenni and Peter. I think the whole story is perhaps symbolic of how I am constantly surprised by the kindness of the William & Mary community, both as a student and now a dean staff member. Like the glue that holds the apple bird together, I find that William & Mary is always there to help pick you up when you fall down and encourages you to embrace your full self.
Fun Facts:
When I was only five years old, my parents asked me what I wanted to name myself. (That's what happens when you immigrate from another country!) From the get go, I knew what my answer would be: Jack, after the charismatic lead of the movie Titantic. To this day it has greatly shaped who I am, being able to choose my own destiny in a way and having a funny sense of humor!

My favorite word is "sonder." It is a completely made-up word, but it means: "the realization that each random passerby is living a life as vivid and complex as your own—populated with their own ambitions, friends, routines, worries and inherited craziness—an epic story that continues invisibly around with elaborate passageways to thousands of other lives that you'll never know existed, in which you might appear only once, as an extra sipping coffee in the background, as a blur of traffic passing on the highway, as a lighted window at dusk." Perhaps that is why I love admissions work so much, because you get a small glimpse of the thousands of people and their stories as they pass by.

My favorite play is RENT and it is probably the only play that I have seen three times. During my senior year of high school, my high school produced a special rendition of RENT that was attended by Jonathan Larson's family and members of the original cast. The students and the community really came together to say, "we want this play to happen and it is important to us." It was a truly special time and was probably one of my most memorable moments to date.