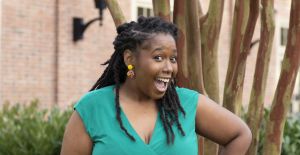 Jackie Thomas
Assistant Dean of Admission
Regions: Richmond, Virginia, and New York
Email: [[jrthomas]]

Who Am I?
I was born in New York City (Harlem) and spent my pre-teen and teenage years growing, learning, and growing some more (but never in height; human standing 5 feet tall and proud) in Newport News, Virginia. Upon graduation, I took my 5 piece luggage set and charm to The Charm City (Baltimore) to attend Morgan State University (M-S-U know) where I was introduced to student development and higher education as a profession and there has been no looking back since! In a nutshell, I am a young black professional (I use young loosely), social justice participant (both personally and professionally), higher education enthusiast....and a GENERALLY DOPE HUMAN!
Why Admission?
I am passionate about providing access and support to historically under represented students in higher education and what better place to do that than through undergraduate admissions! From my humble beginnings as an undergraduate tour guide to my FANTASTIC driving van tours while working at the Graduate School at Virginia Tech, I knew admissions was somewhere in my profession future but I didn't know how nor when. The Office of Undergraduate Admission at William & Mary seemed to marry my social justice and higher education interest beautifully by offering the opportunity to join a team of amazing people doing right when it comes to diversity and access at the first formal touchpoint a student will have with an institution.
Why W&M?
You ever experience something and just know that it's right for you? Well, that's what happened to me when I spoke to my now supervisor Tish for the first time. She was passionate, grounded, and spoke to my personal and professional identities in a way that made me believe W&M was doing good work and would allow me to bring my whole self to the table. Much like an eager college applicant looking for best fit, I was seeking a space that would serve my interest, innovate, gain invaluable experience, and make an impact on the lives of others. Come on, wouldn't you want that? 
What do I do?
I am the regional dean for New York and Richmond VA while serving on the diversity and access team to support the execution of Sneak Peek and Autumn Blast.
FUN FACTS:
I love Hip-Hop and can pull a rap lyric out of my pocket quicker than you can say "Dead in the middle of Little Italy, little did we know that we riddled some middle men who didn't do diddly."
Cooking is my love language and most people close to me know I love them because I am always trying to feed them.
I know I will have a great day if I hear Juveniles' hit classic that was taking over the 99's and the 2000's organically before noon!
I was a competitive public speaker for 8 years but much prefer to work behind the scenes. I absolutely love to listen to others share about their lived experiences and listen to A LOT of podcasts!