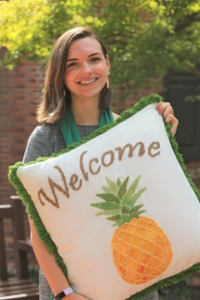 Ola Pozor
Admission Counselor
Regions :  North Fairfax County Virginia, Arkansas, Louisiana, Oklahoma, Texas
Email :  [[ola]]

¡Estaré encantada de ayudarte en español!
Who Am I?
I grew up in the DMV (DC, Maryland, Virginia) area as a second-generation Polish immigrant, spending every weekend at Polish school/church and every summer with my family in Poland. I'm a language-loving globetrotter who studied Government and Hispanic Studies at William & Mary and got involved in Admissions, Music, CampusRec, and the Global Research Institute! After I graduated in 2019, I moved to Spain for two years to teach English and advise international students applying to American universities. I hope to further my education in international relations and higher education in the future.
Why W&M?
William & Mary was a gem that immediately made me feel at home. I fell in love with Colonial Williamsburg, the nature and rich history of the area, and the fantastic liberal arts academics that lead to endless opportunities. This university is an intellectual hive, buzzing with curious, creative, collaborative students and faculty who excitedly invite you to join their research teams, clubs, and events. It is a caring, inclusive community that thrives on tradition and innovation, always seeking to improve itself and the world. 
Why Admission?
As a first-generation U.S. college applicant who had a bumpy ride through visits, tests, essays, and decisions, I made it my mission to dive deep into this realm and serve students with the same hopes, dreams, and confusions I once had. Through tour-guiding since freshman year, senior interviewing, and college counseling abroad, I have deepened my core belief that every student and story matters, and it is my honor to be a resource for them. It's also super fun to be on campus and participate in events with current students and faculty to deepen community ties and further the goals of this great institution together.
Fun Facts
I am OBSESSED with pineapples! Not only are they my favorite fruit and accessory, they're also the symbol of Williamsburg hospitality, so it's an additional sign that I'm meant to be here!
I had the honor of performing at Carnegie Hall in NYC with my W&M acapella group, alongside the world-famous King's Singers!
My dad and I are such airplane buffs that we've memorized all models and airline logos, as well as the international landing schedule at Dulles Airport after 18 years of watching them fly right over our house!