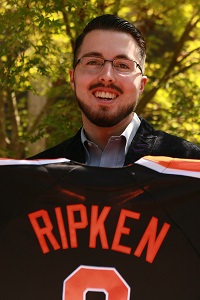 Brad Harlan
Senior Assistant Dean of Admission
Regions: Arlington and Alexandria, Virginia and Alabama, Arkansas, Kentucky, Louisiana, Maryland, Mississippi, Oklahoma, Tennessee and West Virginia
Email: [[bjharlan]]

Dean Harlan's Bio
Who am I?
I was born in Durham, NC, but was raised in Montgomery County, Maryland. As a Marylander, I can attest to the fact that, as is proclaimed in the movie Wedding Crashers, we do indeed excel in the fields of crab cakes and football (Go Ravens!). I graduated Phi Beta Kappa with a degree in Microbiology from the University of Michigan, where I spent my undergraduate years pursuing my passions for scientific research and the performing arts. Before coming to Williamsburg, I taught science and coached basketball at Southern Vance High School in Henderson, NC as part of the Teach for America program.
What's with the photo?
I love all things sports, and agree with ESPN anchor Scott van Pelt's statement that "sports are better than anything else, always." I will watch and/or participate in just about any sporting event, and am a die-hard Baltimore Orioles, Baltimore Ravens and Washington Wizards fan. As is the case with any Orioles fan, I have an undying admiration for Cal Ripken, Jr., the greatest third baseman to ever play the game. One of the highlights of my life came on September 20, 1998, when I was in attendance for the game when Ripken ended his record streak of 2,632 consecutive games played. It was an unforgettable evening.
Why William & Mary
Take a moment to browse through the William & Mary website. Now look through the websites of the other schools you are considering applying to. Now kindly look back at us. See the difference? William & Mary provides one of the most engaging undergraduate experiences in the country, blending the research and global opportunities of a larger research university with the close-knit and personable environment of a smaller liberal arts school. As a William & Mary student, you will be challenged daily both inside and outside the classroom by both your world-class faculty and diverse classmates, all while being surrounded by the historical and aesthetic beauty of Williamsburg. Don't believe me? Or is our website not enough to convince you? Then come and visit W&M anytime. It would be our pleasure to host you. Once on campus, we're confident that you'll fall in love with our university, as we all have.
Why Admission
As a teacher, one of my favorite things to do was to talk to my students about college. My undergraduate experience was such a transformative and important period in my life, and I wanted to help my students have the opportunity to experience something similar. After realizing how much I enjoyed this process, I decided that I wanted to take my interest in college admission to the next level. I'm now happy to call William & Mary my home, and am incredibly fortunate to get to work with such bright and curious students on a daily basis.
What do I do for Admission?
If you are from the Arlington and Alexandria areas of Virginia, or from Alabama, Arkansas, Kentucky, Louisiana, Maryland, Mississippi, Oklahoma, Tennessee, or West Virginia, then I have the privilege of reviewing your application. In addition, I direct our Tour Guide program, oversee our STEM recruitment efforts (including our terrific STEM Panels!), and am a member of both our On-Campus Programs and Marketing and Communications teams.
Fun Facts
I have a nephew named Kevin (or as we call him, K-Klo) and two nieces named Vesper and Norah. They are the three cutest people in the history of the world.

As a college student I was a member of a few different performance groups. As a member of these groups, I had the privilege of performing across the country and around the globe in such places as New York, Florida, California, China, and Cuba.

My favorite musician is Stevie Wonder, and I maintain that Songs in the Key of Life is the greatest album ever made. If you get stressed at any point during the college admission process, give that album a listen. You'll be glad you did.