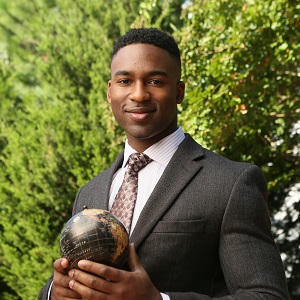 Dominic Burkett
Assistant Dean of Admission
Regions: Tidewater Virginia and New York
Email: [[drburkett]]

Who Am I
While I generally say I am from Chesapeake, Virginia my family is military and I have lived in some incredible places in my life. I graduated from William & Mary in 2016, completing my double major in Government and History. I joined the Admission team while pursuing graduate studies in Higher Education Leadership here at William & Mary as well!
Why W&M
William & Mary feels exactly how a college should feel, from the moment you step on campus. From it's classic stadium, to the Wren Building as the oldest standing university building in the U.S., down to our very open fresh-air, seasonal-leaves, hopping-squirrel filled pathways. It's like stepping back in time, while leaping into your own future. William & Mary ("Loved of Old!") is where you truly have the opportunity to accomplish every goal you put your mind to- and you will not be the only person doing so either!
Why Admission?
Getting a chance to interact with the prospective students of today, in support of the mission of my beloved alma mater, is an incredible beginning to a long life of service in education which is one of my personal passions.
What do I do for Admission?
I am the dean responsible for prospective students from the Tidewater area of Virginia, and New York. I am also a member of the Multicultural Recruitment Team.
Fun Facts:
I was born in Landstuhl, Germany, and have lived in Turkey, Panama, South Carolina, Missouri, and all around Tidewater Virginia. Because of this I have an incredible love for the world around us- I am always game for a conversation on international relations, the Middle East, and American interaction on the world stage.
My best friend, who was my college roommate and Tribe football teammate, happened to be a fellow a military brat born in the same hospital in Germany as I was!