W&M's mascot search on ESPN!
Full Description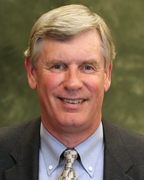 William & Mary Athletic Director Terry Driscoll, who is chair of the College's mascot search committee, appeared on ESPN2's "First Take" morning show on Tuesday, June 30, 2009.
Driscoll appeared in a segment at about 10:45 a.m. via satellite to discuss the status of the search and the wide range of ideas submitted so far by alumni, students, faculty, staff and friends of the College. A surprise appearance by Lou Holtz generated more ideas for consideration by the mascot committee.
Watch the First Take segment now.
Go Tribe!