Chapel Capacity & Floor Plan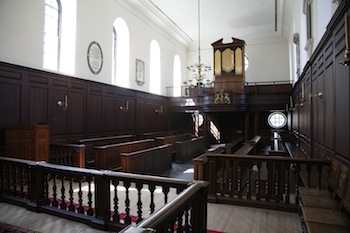 Capacity
The capacity of the Wren Chapel is limited to 120 guests. You do not need to include bride, groom, their attendants, and the officiant in this number.
For purposes of comfort, safety and compliance with fire codes, occupancy capacities are strictly enforced. Fire and safety regulations prohibit the use of extra chairs in the aisle.
Floor Plan and Dimensions
The interior dimensions of the chapel are approximately 24 feet wide x 58 feet, 8 inches long. In the plan shown, the altar is at the bottom of the image and the exterior door to the chapel is at the top. There are six exterior steps leading up to the chapel, another two at the altar end of the aisle, and one at the door leading to the stairhall behind the altar.
The following approximate measurements are offered for your planning purposes:
The pews closest to the altar (there are two on either side of the aisle) are ten feet long.
The next pews facing the aisle (there are two on either side of the aisle) measure twelve feet long.
A single long pew runs along the walls behind the shorter pews mentioned above. Each is twenty-eight feet long.
The two stall pews under the balcony on the left side of the plan are 7' 7" long.
The four stall pews under the balcony on the right side of the plan are 7' 5" long.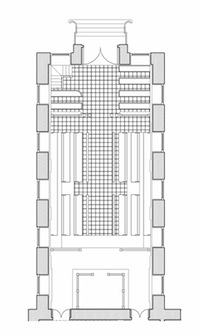 Approximately eighty guests can be seated in the antiphonal pews. An additional twenty-five can be accommodated in the stall pews under the balcony. The organ blocks the view from most of the seats in the balcony, but your musicians, photographer/videographer, and an additional fifteen guests can be accommodated in the balcony.
The arrangement of the pews facing the aisle instead of the altar is called antiphonal seating. It derives from an early Christian tradition in which a congregation was divided into two groups for singing the psalms, each taking a verse. First documented in the cathedral at Milan about 375, it became part of the monastic tradition which influenced English collegiate chapel architecture. Antiphonal seating serves the responsorial readings and chants that characterized monastic and ultimately Anglican prayer services.
Download the Chapel floor plan (pdf).