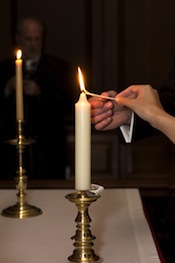 Those who want to make a unity candle ceremony part of their wedding service have several options. Keep in mind that all candles must be on the altar table.
You may bring in your own pillar candle and use the two brass candlesticks on the altar as the side candles (or "mothers' candles"). You will need to supply your own holder for the pillar candle. You can bring in your own side candles or use those provided by the Chapel.
You may bring in candlesticks for all three candles and supply your own candles. Some area florists have three-candle unity candle holders. Let Kimberly or Bernard know if you would like the brass candlesticks removed from the altar table.
You may use the Wren Building's brass unity candlestick with our brass candlesticks as the side candles. This candlestick takes a special candle which we will provide at no charge. Don't forget to take the candle with you at the end of your wedding so you'll have it to light on anniversaries.
We will provide six-inch wick-tapers to use in lighting the unity candle (see photo). This is a much safer and more graceful operation than picking up the whole candlestick. The wick-tapers can also be used to light the side candles. Bernard will leave a small glass votive burning on the altar so nervous hands do not have to strike a match. Please let Kimberly or Bernard know if you'd like him to light the side candles before the ceremony begins. We recommend that the unity candles be available at the rehearsal so those lighting them will be familiar with the process on the day of your ceremony.