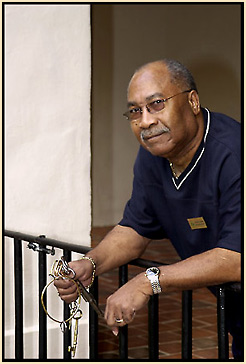 A native and lifelong resident of Williamsburg, Bernard came to the Wren Building in 1985. He retired from the Colonial Williamsburg Foundation in 1991 after twenty-five years of service.
Bernard is indispensable in many ways, from preparing the Chapel before your wedding to assisting your guests and ensuring that you are not disturbed during your ceremony. Be sure to let him know at the rehearsal if you have a guest who uses a wheelchair or who will need assistance getting to the building.
Bernard's greatest talent is keeping rehearsals and weddings on schedule, which is especially important on days when there are several ceremonies. (His secret talent is playing the harmonica... and his repertoire includes the Wedding March!)
You can expect to see Bernard at the beginning and end of your rehearsal, and he will also be on duty the day of your wedding. Please let him know if he can assist you or your guests in any way.