Badge and Chain of Office
Badge and Chain of Office
At the investiture of Chancellor Burger in 1987, the university unveiled a distinctive badge and chain of office for the chancellor, a gift of the Society of the Alumni of William & Mary and its Board of Directors. Modeled after the badge of the Lord Chancellor of England worn by Sir Thomas More, the badge and chain incorporate the various historical aspects of the chancellor's post at William & Mary.
The badge itself primarily contains the coat of arms of the university given on May 14, 1694, by the College of Arms in London. Those arms were described as: "Vert a Colledge, or Ediface maison'd Argent in Chief a Sun rising or the Hemisphere proper," or a college building in silver, on a green field, a golden sun at half orb against a blue sky.
At the top of the coat of arms is the word "Chancellor" and 1693, the date of the granting of the Royal Charter, and encircling the words, "College of William & Mary in Virginia."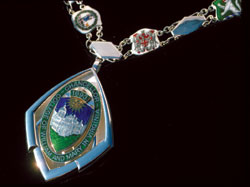 The chain for the badge incorporates six distinctive historical insignia. The crossed swords from the arms of the Bishop of London, the university's first chancellor, and the cross from the arms of the Archbishop of Canterbury, the other pre-Revolutionary holder of the office, were selected to note the colonial beginnings of the position.
The prominence given the office by two presidents of the United States is also symbolized on the chain. The eagle, a crest detail from the family arms of George Washington, the university's first American chancellor, and the lion detail from the family arms of John Tyler, the 10th President and the second American chancellor, denote the transition of the office.
Also on the chain are the current Great Seal of the Commonwealth of Virginia, denoting that William & Mary is a state institution, and the arms of the London Company, representative of the colonial arms of Virginia at the time the university was chartered.
The badge and chain of the Office of the Chancellor was inspired by former university rector Anne Dobie Peebles '44, who believed it was important for the chancellor to have a badge and chain symbolic of the status of the position. It was handcrafted by the firm of Thomas Fattorini, gold and silversmiths of Birmingham and London, which has a world-wide reputation in the field of badges, medals and insignias, including medals for the Order of the Companions of Honour, The Most Excellent Order of the British Empire and Her Majesty Queen Elizabeth II.
-By Wilford Kale '66